IND vs AUS 2023, 1st Test: KL Rahul admits India tempted to play three spinners against Australia at Nagpur
With less than 48 hours left for the Border-Gavaskar Trophy to begin, India's vice-captain KL Rahul didn't provide any definitive answers about three key slots in the team -- the wicketkeeper, the third spinner and the number five in the batting order.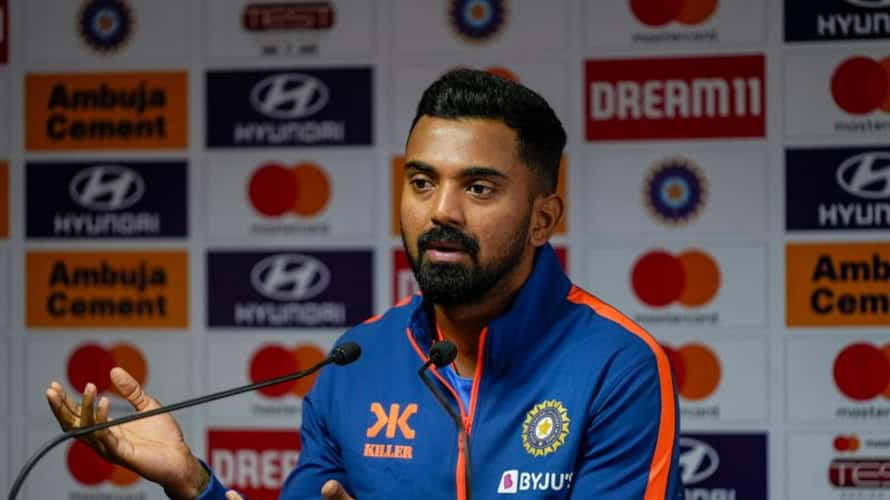 Although it's never simple to forecast the characteristics of a wicket, India's Test vice-captain KL Rahul believes there is a "temptation" to play three spinners in the first Test against Australia, which starts in Nagpur on Thursday.
With the Border-Gavaskar Trophy starting in less than 48 hours, Rahul was asked about three crucial positions in the team: wicketkeeper, third spinner, and number five in the batting order.
Also read: IND vs AUS 2023: Shastri's advice to Ashwin, his choice of 3rd spinner, picks between SKY & Gill and more
Asked if Shubman Gill will bat in the middle order, Rahul said, "We still haven't decided on the final XI. It's going to be a tough decision to make. There are guys who have performed exceedingly well, and there are a few spots open, so there are a few discussions going on, and the players are being spoken to."
Rahul doesn't want to be seen as a soothsayer when it comes to interpreting the 22-yard strip, even if the VCA track is predicted to help spinners from the start.
"Yes, we did see it (the pitch), but it's still too early to really know what the pitch is going to do. We need to come here on the day of the match to know how it's really going to play," he told reporters. 
"We can only look at it and assume it's going to play a certain way, but you never know with pitches. Yes, there is the temptation to play three spinners because we're playing in India. We'll take that call on the day of the game or the day before the game," the stylish right-hander said. 
Rahul was asked if he would like to bat in the middle order, where he started his Test career back in 2014, with captain Rohit Sharma back in the mix.
"If it arises, then I'm more than happy to do that. Whatever little cricket I've played for the country, I've always done that. Whatever the team has asked me to do, I try and prepare that way and try and do my best for the team, and if that is something that the team wants me to do here, I'll be more than happy to do it," Rahul said, although it is unlikely that he would come down the order. 
So does he find it unique that there is no straightforward choice for picking the playing eleven this time around?
"I don't know if it has happened before, but, yes, this time it is going to be tough. Tough decision to select an eleven. All the 15 guys on the side are top quality, and that's why they're here. Anyone of them on any given day can be a match-winner. The playing XI, we always try and make a decision based on what's best for the team and for that particular Test match. We have done that over the last two years," that was his response to a PTI query. 
Rahul didn't fail to remind the media that the criticism he received for benching Kuldeep Yadav for the second Test against Bangladesh following his match-winning effort in the series opener still has him feeling very bitter.
Also read: Border-Gavaskar Trophy 2023: India is really going to miss Rishabh Pant against Australia, says Ian Chappell
"There have been questions about why a certain player has played, even in Bangladesh. I remember Kuldeep (Yadav) got the man of the match and did not play the next Test. Obviously, the only reason, or the only thinking, behind such decisions is which player fits the role for that particular condition," he said.
"You said, I have played for 10 years, but even if I have played for 20-30 years, and even after retirement, there is nobody who can look at the pitch and say accurately that 'this is how it is going to play'. It's really based on some experience and a little bit of history of that place. Even in this series, that's something we will continue to do," Rahul added. 
Whether it is Suryakumar Yadav or Kuldeep Yadav, whoever gets dropped needs to take that on his chin. "Everyone is very clear about why they're playing, why they aren't playing, their roles in the team. That's a good thing, and the atmosphere in the team is very good," he stated.
Reverse swing will play a huge role
Rahul believes that reverse swing in arid and dry conditions can play a significant role given the calibre of the Australian bowling lineup.
"It always plays a huge role in India. We have seen that historically as well. Any team that has quality fast bowlers who can exploit reverse swing will be dangerous on pitches like these. That's something that we have tried to prepare for over the last week, 10 days," he said.
"We all know the Australian team has always produced high-quality fast bowlers, and we know the threat they can pose. That's the beauty of playing against Australia, that's what excites you and something we are kicked about," Rahul added.
Also read: IND vs AUS 2023: Khawaja terms facing Ashwin-led Indian spin attack as 'hardest challenge'
With David Warner, Usman Khawaja, Travis Head, Alex Carey and Matt Renshaw in the mix, the southpaw-heavy Aussie line-up may just be given an advantage to the home team.
"I think it will help our bowlers a little bit. If there are two left-handers together, and left-handers are coming in to bat, back-to-back, that will only mean that the bowlers get time to settle into a certain line and length. That also is a very unique thing. I don't think any other team has that many left-handers," he concluded.
(With inputs from PTI)
Last Updated Feb 7, 2023, 4:49 PM IST