ICC World T20 2021: MS Dhoni meets Chris Gayle, Ravi Shastri faces Matthew Hayden, Phil Simmons (See pictures)
The top sides are involved in the 2021 ICC World T20, which is underway in Oman and UAE. Ahead of the Super 12s, some of the top players and coaches are reuniting with their counterparts.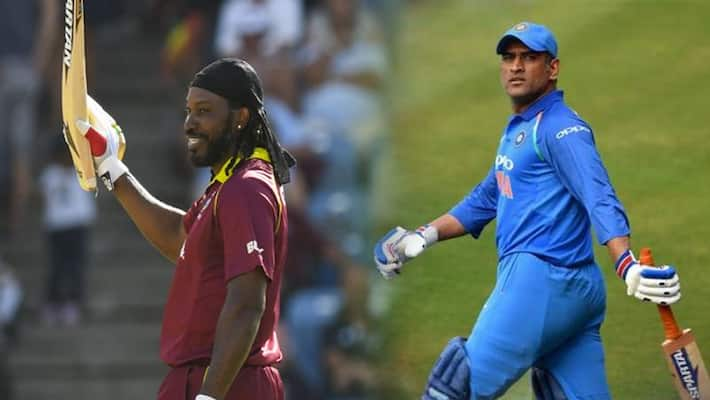 The ICC World T20 is already underway in Oman and the United Arab Emirates (UAE) with the Qualifiers. Four teams would move into the Super 12s, where the top-ranked sides would be awaiting them, which starts from Saturday.
ALSO READ: Is MS Dhoni the heart of Chennai Super Kings? Here's what the owner feels
As far as the top-ranked teams are concerned, they are currently busy training and preparing for the month-long tournament, besides taking part in a couple of warm-up matches. Furthermore, this competition is making old foes meet each other again, be it in the form of team, players and coaches.
"
ALSO READ: IPL 2022: MS Dhoni to play for Chennai Super Kings, affirms CEO Kasi Viswanathan
In the same light, legendary former Indian skipper and now Team India mentor MS Dhoni met veteran Windies explosive opener, Chris Gayle. "Two legends 🙌 One memorable moment 📸 When @mahi7781 & @chrisgayle333 caught up. 👍" BCCI captioned the photos.
ALSO SEE: ICC World T20 2021: MS Dhoni joins Team India as mentor
The pictures were taken at the ICC Academy Ground in Dubai on Monday during the side's respective warm-up games. While Windies lost its match to Pakistan, India defeated England in a high-scoring encounter.
"
ALSO READ: IPL 2022 Mega Auction: Chennai Super Kings use its first retention card on MS Dhoni?
In a series of other pictures shared by Cricket Windies, Dhoni was seen catching up with his Chennai Super Kings (CSK) teammate Dwayne Bravo, while Rishabh Pant met Nicholas Pooran. Also, while Gayle caught up with former South African speargun Dale Steyn, Ravi Shastri met Pakistan batting coach Matthew Hayden and Windies head coach Phil Simmons. "Say 🧀! Good friends, meet up at the @t20worldcup in Dubai.❤ " CWI captioned.
Last Updated Oct 19, 2021, 4:48 PM IST