T20 World Cup 2021: Quinton de Kock issues apology, pledges to take the knee
Quinton de Kock had refused to take the knee in the ongoing ICC T20 World Cup. Amidst all the confusion, he has issued an apology and has pledged to take the knee.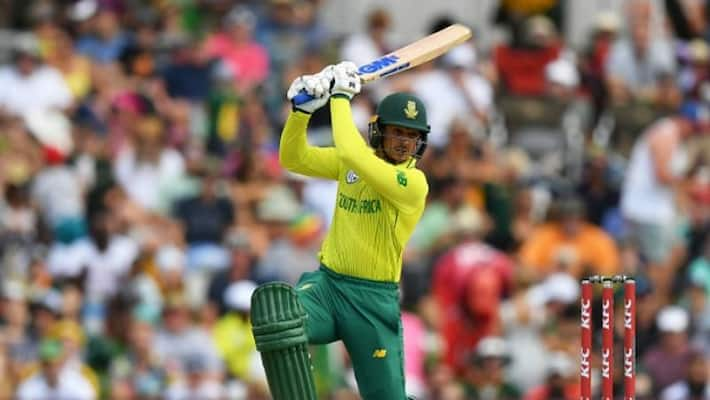 For a controversial reason, South African wicketkeeper-opener Quinton de Kock was in the headlines for the past couple of days. He had refused to take the knee in support of the Black Lives Matter (BLM) movement in the ongoing ICC T20 World Cup, a directive issued by Cricket South Africa (CSA).
ALSO WATCH: Black Lives Matter - SA's Quinton de Kock refuses to take the knee; here's how the cricketing world reacted
Things got even interesting when he decided to pull out of Proteas' game against the Windies on Tuesday. Consequently, there was a controversy all around, with experts, fans and critics taking a jab at him, analysing whether his decision was compelling enough. While some spoke against him, some stood by his decision.
ALSO READ: T20 World Cup 2021: Temba Bavuma shocked at Quinton de Kock's decision to not take knee
"
However, a couple of days since, de Kock has apologised for the miscommunication and the confusion created. On Thursday, he issued a lengthy statement on his Instagram handle, apologising to all who had been hurt by his deeds, besides asserting that he is willing to take the knee for the sake of making things better.
ALSO READ: T20 World Cup 2021, SA vs WI: Quinton de Kock marks himself unavailable after CSA's 'take the knee' directive
"I never ever wanted to make this a Quinton issue. I understand the importance of standing against racism, and I also understand the responsibility of us as players to set an example. If me taking a knee helps to educate others and makes the lives of others better, I am more than happy to do so," he wrote.
ALSO READ: T20 World Cup 2021, Australia vs Sri Lanka (Super 12) Preview: Teams look to continue their dominant start
"
"I did not, in any way, mean to disrespect anyone by not playing against West Indies, especially the West Indian team themselves. Maybe some people don't understand that we were just hit with this on Tuesday morning, on the way to a game. I am deeply sorry for all the hurt, confusion and anger that I have caused," he added.
ALSO READ: T20 World Cup 2021, England vs Bangladesh (Super 12) - ENG marches on with 8-wicket win, BAN in trouble
"For those who don't know, I come from a mixed-race family. My half-sisters are Coloured, and my stepmom is Black. For me, Black lives have mattered since I was born. Not just because there was an international movement. The rights and equality of all people is more important than any individual. I was raised to understand that we all have rights, and they are important," he further clarified. Read his entire statement below:
Last Updated Oct 28, 2021, 7:16 PM IST