Historic! Cricket World Cup 2023 shatters all-time attendance record with 1.25 million fans
The article highlights the success of the Cricket World Cup 2023, with record attendance of 1.25 million fans, as Australia secures their sixth title by defeating hosts India in the 13th edition.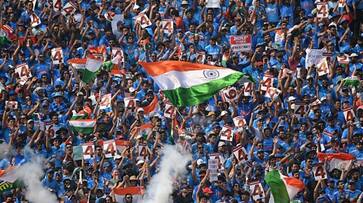 The 13th edition of the Cricket World Cup in 2023 surpassed expectations, emerging as one of the most significant ICC events in the history of the sport. The International Cricket Council (ICC) announced on Tuesday that a record-breaking 1.25 million fans attended matches during the tournament. The World Cup concluded on Sunday with Australia securing their sixth title by defeating hosts India. An astounding 1,250,307 spectators filled the stands during the 45-day showpiece event, eclipsing the previous record of 1.016 million set during the 2015 edition in Australia and New Zealand.
Also read: PM Modi consoles Rohit Sharma and Virat Kohli after defeat at World Cup final; see pictures
In the initial stages, matches not involving the Indian team experienced some empty seats, but overall spectator figures had already crossed the one million mark with six games left in the competition. ICC Head of Events, Chris Tetley, hailed the one-day international (ODI) tournament as a "great success" and emphasized the enduring appeal of cricket, with the ODI format continuing to provide excitement.
"The staggering attendance demonstrates the enduring appeal of cricket and excitement the ODI format continues to offer," Tetley said in a statement, adding that the tournament also broke multiple broadcast and digital viewership records. It has been an event that has not only entertained but also united cricket fans globally in a celebration of the sport," said Tetley.
The final match drew a crowd of about 100,000 spectators, predominantly dressed in blue to support the Indian team. However, this fervent support did not alter the outcome of the game, as Australia emerged victorious by 6 wickets in their pursuit of a target of 241 runs. Travis Head's century played a pivotal role in Australia's triumph, securing their sixth ODI World Cup title in the process.
Also read: WC Final: Did India crack under pressure or was it a bad day at the office? Sports psychologists explain
Last Updated Nov 21, 2023, 2:26 PM IST