Exclusive interview: Yuvraj Singh's father reveals reason for son coming out of retirement
Yuvraj Singh played his last game for India in June 2017, in an ODI against the Windies. He was pivotal in India winning the ICC World Cup 2011, where he was the Man of the Tournament. His last IPL stint was in 2019, with Mumbai Indians, with whom he won the title.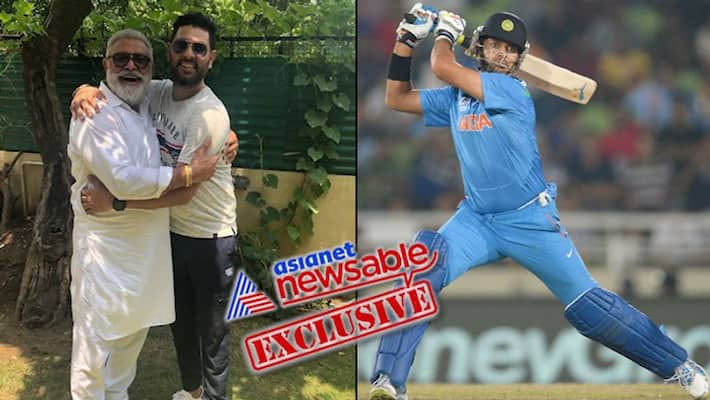 Indian cricket fans woke up to exciting news on Thursday morning when they came to learn that former Indian swashbuckling batsman Yuvraj Singh is considering coming out of retirement to play for Punjab again. The news gives a fresh ray of hope to Indian fans, as they look to see Yuvraj going slam-bang again.
Yuvraj shocked the world when he decided to hang up his boots in June 2019. Since then, he has played in a couple of overseas leagues. While his U-turn on the same is fascinating, some have been left scratching their head, as to what made him do so all of a sudden.
Meanwhile, Asianet Newsable caught up with his father, Yograj Singh, who revealed the exact reason and the moment that made Yuvi think otherwise about his ongoing retirement. Here are a few excerpts from Yograj's interview:
What has prompted Yuvi to play for Punjab again?
"I was not very happy when he was retiring. I knew that he still had five years of cricket left in him. But I never forced him, since he has done so much for the country, and the game itself. He was under too much pressure as well. So, I never insisted him on reconsidering his decision again. However, I kept on feeling that he could still play for Punjab, and could also coach the boys, just like I do." 
"When I got a call again from DAV college to rehab the boys, Yuvi took up the matter with the Punjab Cricket Association (PCA). A camp was organised for two months, which I attended as well, as I saw him spending time with the boys, talking to them the whole day, and guiding them. It literally made me happy. I also asked him on why he is doing this, and he replied that since the sport has given him so much, he wants to give it to the boys as well."
"One day, during training, I asked Yuvi to go and bat with the boys, under the supervision of some PCA officials, to help the boys understand the play better. As he went to bat, his side needed more than 200 runs to win in around 20 overs. Surprisingly, Yuvi slammed a century in just 32 balls, as he hit sixes all over the park. He, along with Shubman Gill at the other end, played beautiful cricket, as his side won."
"The boys asked him more about his techniques, and it gave him both happiness and satisfaction. It started happening every second day and Yuvi kept playing well, batting in the 90s and 100s, besides winning the games. This also inspired Gill to bat beautifully. Following this, PCA secretary, Puneet Bali, asked Yuvi to come back and play for Punjab again, as this would inspire the boys to play more beautifully and go on to become a legend like him."
"Following his discussions with the officials, Yuvi comes back to me and says, 'Dad, I miss cricket. Five years of my life has been wasted. Should I play again?'. I said, 'You bat like Gary Sobers, Clive Lloyd and Brian Lara. So, why not? Don't think about the country, but Punjab for now.'"
"PCA was definitely eager to have him, as it decided to set up an academy and wanted to make Yuvi the director. This prompted Yuvraj to play for Punjab again, and being his father, I feel extremely proud that it is time for him to give something back to the game, which has given so much to him."
ALSO READ: Yuvraj Singh decides to come out of retirement; here's what he said
Is Yuvraj planning on coming back to IPL and international cricket?
"If he starts playing well for Punjab again, if selectors are impressed with him and they want him back, then why not. I still feel that he can serve the country for four-five years. Even when he was retiring, I wanted him to continue for the same time period. Even if he goes onto represent India again, or play IPL again, it won't matter much, since he has already done and given so much to the country and the sport. What matters now, is that he gives it back for the betterment of cricket in Punjab, and Yuvraj is the right man to do so. I would be really delighted if he does so."
Can Yuvraj still make it to the Indian team, especially in Tests?
"I always felt that he could play until the age of 45, as he is genetically very strong. He was even stronger when he came back from cancer, as he continued to work very hard. However, he was hurt after his last five years were wasted and he was also hurt as he announced his retirement. Age is just a number. Players like Yuvraj are born once in a blue moon, and as long as he keeps performing, there is a high chance he could still serve the country."
"As far as playing Test cricket is concerned, he was doing good under Sourav Ganguly. However, it was all ruined after Ganguly's retirement, and for reasons that I don't want to specify. Had it not for that, Yuvi would certainly have played 100 Tests by now."
Playing for Punjab again would mean squandering opportunities to play overseas. Is Yuvi willing to make that sacrifice?
"It is more important to play for Punjab and serve his country first, following which he can focus on playing overseas. The reason why he announced retirement and play overseas was to take out his frustration, and to also prove that he still has cricket left in him."
How have other members in the family reacted to Yuvi's latest decision?
"When it comes to cricket, the decision is always between me and Yuvi. Since it's his career, he is free to make his own choices. He only consults me regarding it, which I always support. He should always do what he feels happy and content about."
What about IPL in the coming years? Does he have a plan?
"Right now, his focus is entirely on Punjab cricket. It's been 20 years since Yuvi made his debut for India, and he was the last player from Punjab to do so. Just imagine the plight of the state and the PCA. He can focus on IPL later."
Last Updated Sep 10, 2020, 7:52 PM IST