Deciphered: India's pivotal role in Afghanistan's rise to cricket elite after stunning win over England
The article discusses Afghanistan's remarkable victory in the ODI World Cup 2023 and highlights India's pivotal role in their journey to cricket's elite, showcasing their growth from war-torn beginnings to a stunning win over England.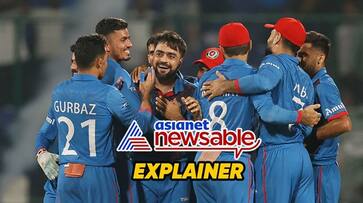 Afghanistan, which has been hovering near the upper echelons of cricket for some time, showcased their belonging among the sport's elite, thanks in part to support from cricket's powerhouse, India. After enduring years of wars and internal conflicts, Afghanistan's cricket team achieved a major ODI World Cup 2023 upset, defeating defending champions England by 69 runs, marking only their second World Cup victory.
Many Afghan cricketers honed their skills in Pakistan during their formative years, with some even picking up the sport in refugee camps on the other side of the border. The team from this war-torn nation made its T20 and ODI debut against Pakistan.
However, the Board of Control for Cricket in India (BCCI) played a significant role in facilitating the rapid rise of cricket in Afghanistan. In 2015, the Shaheed Vijay Singh Pathik Sports Complex in Greater Noida became a temporary "home-ground" for the Afghan team, thanks to BCCI's support. They shifted their base from Sharjah to Noida and even hosted international matches against Ireland in Greater Noida in 2017. Afghanistan also "hosted" a Twenty20 series against Bangladesh in Dehradun.
Also read: 'For victims of earthquake': Rashid Khan after Afghanistan's ODI World Cup 2023 win over England
Additionally, former Indian cricketers Lalchand Rajput and Manoj Prabhakar contributed to Afghanistan's development as they served as coaches for the national team, with Prabhakar specifically focusing on bowling.
Strengthening the diplomatic relations between the two nations, the BCCI invited then Afghanistan President Ashraf Ghani to witness the team's first Test match in Bengaluru. Since then, Afghanistan has made significant progress in international cricket, regularly participating in ICC world events and earning Test status.
The inclusion of Afghan players in the Indian Premier League (IPL) also played a crucial role in popularizing cricket in Afghanistan.
Throughout their journey, Afghanistan has consistently acknowledged India's pivotal role in their development as a cricketing nation. Their recent achievement against England is a testament to their growth in the sport.
This remarkable victory against England, the reigning world champions, demonstrates Afghanistan's capability despite limited exposure to established cricketing nations in the 50-over format.
Afghanistan batted first on a pitch known for high-scoring matches and posted a competitive total. Their spin trio outperformed the English bowlers, dominating the formidable English batting lineup.
The iconic moment came when Rashid Khan, one of Afghanistan's leading cricketers, took the last wicket to secure the historic win, leaving England stunned.
Unsurprisingly, Afghanistan's captain, Hashmatullah Shahidi, expressed his delight after the victory, highlighting its significance for his team and the confidence it instills for future matches.
"I'm quite happy, all the teammates are happy. This is the best win for us, the confidence will be there for the next game and I'm very proud," Shahidi summed up the mood.
Also read: ODI World Cup 2023: Afghanistan script history with thrilling 69-run win over defending champions England
Last Updated Oct 16, 2023, 10:39 AM IST