Virat Kohli's romantic gesture in the World Cup semi final at the Wankhede stadium
In a thrilling semi-final clash, Virat Kohli's historic 50th one-day international century propelled India to a commanding 70-run victory over New Zealand, securing their spot in the Cricket World Cup final.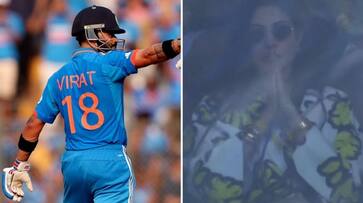 Virat Kohli achieved a historic milestone with his 50th one-day international hundred, propelling India to a 70-run victory over New Zealand in the semi-final and securing a spot in the Cricket World Cup final. The cricketing icon, sharing the achievement with his idol Sachin Tendulkar, accomplished this feat in his 279th ODI innings, captivating the audience at Wankhede Stadium. Among the notable spectators, including former Real Madrid and Manchester United star David Beckham, Kohli's wife, Anushka Sharma, witnessed the momentous occasion.
During the match, the couple exchanged flying kisses, adding to the already romantic atmosphere. However, an endearing incident unfolded when Kohli, having been dismissed at a score of 117, briefly left the dressing room in an attempt to spot his wife in the stands. Despite a quick scan of the upper deck, Anushka remained unaware of her husband's heartwarming effort.
In addition to Kohli's outstanding performance, Shreyas Iyer's quickfire 105 and Shubman Gill's unbeaten 80, after retiring hurt on 79, contributed to India's impressive total. However, it was pacer Mohammed Shami who stole the spotlight with a career-best 7-57. Despite Daryl Mitchell's valiant 134, New Zealand, the two-time World Cup finalists, were dismissed for 327.
As India aims for a third World Cup title, having won all 10 matches in the tournament so far, they now await the winner between Australia and South Africa for the final showdown in Ahmedabad on Sunday.
Also Read: AUS vs SA: Horrible start forces netizens to ask if Proteas are 'choking' again on big stage
Last Updated Nov 16, 2023, 4:03 PM IST