Revealed: R Ashwin's pre-World Cup 2023 chat with coach Dravid, captain Rohit Sharma
Ravichandran Ashwin's unexpected comeback to India's Cricket World Cup 2023 squad raised eyebrows, as he replaced the injured Axar Patel. In a candid chat, Ashwin reveals the intriguing conversation he had with coach Rahul Dravid and captain Rohit Sharma, who assured him they would return to him if needed. Discover the inside story of Ashwin's return and his vital role in India's World Cup journey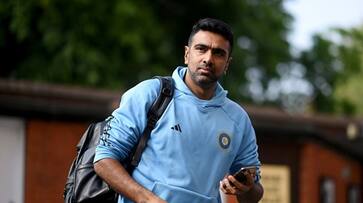 Ravichandran Ashwin's unexpected inclusion in India's ODI team for the Cricket World Cup 2023 raised eyebrows due to Axar Patel's injury. However, Ashwin's performance in India's World Cup opener against Australia proved his worth. Ashwin shed light on the discussion he had with captain Rohit Sharma and coach Rahul Dravid before joining the squad.
When Axar was injured, Ashwin and Washington Sundar were considered as potential replacements, with Ashwin ultimately getting the call. Ashwin revealed that Rohit and Dravid had forewarned him about the situation and assured him they would turn to him if necessary. In jest, Ashwin expressed his hope that they would never need to recall him.
During a post-match chat on Star Sports after the Australia match in Chepauk, Ashwin also shared his thoughts on the pitch, having played extensively in Chennai throughout his career. He emphasized the challenges posed by the pitch's cracks and discussed the crowd support in Chennai. Ashwin further explained the intricacies of his bowling technique and the time it takes for him to find his rhythm.
"It was more like a Mayday call, I was chilling at home, played a couple of club games but Rohit and Rahul [Dravid] had told me that if there is a situation we will come back to you, I just told them jokingly that hope you never come back to me [smiles]," Ashwin said in a chat on Star Sports after the conclusion of the match against Australia in Chepauk.
Ashwin also gave his insights on the wicket at the venue.
"I played a lot of cricket in Chennai. It is quite unlike Chennai's pitch, with lots of cracks. You saw how Hazlewood and the Aussies bowled in the 2nd innings. We were actually a little concerned at how it would pan out. The crowd always gets behind us here. Thankfully we lost the toss and Jadeja was on a roll after he got the ball," he said.
"It's more than the pace, it's difficult for the bowlers to bowl at a particular speed. It's about getting the sidespin and overspin right, getting my body into position - all of these things. It's about getting that right for me. For me it usually takes about 6-8 balls to get that right," Ashwin added.
Also Read: ODI World Cup 2023: Virat Kohli, KL Rahul reflect on crucial partnership against Australia - WATCH
Last Updated Oct 10, 2023, 12:28 PM IST