Ravichandran Ashwin's thought-provoking perspective on ODI powerplay rules
Ravichandran Ashwin shares intriguing insights into the impact of ODI Powerplay rule changes implemented in 2015 and their influence on India's cricket dominance. He discusses how the alterations, including two new balls and field restriction modifications, shifted the balance towards batsmen, altering the landscape of high-scoring matches.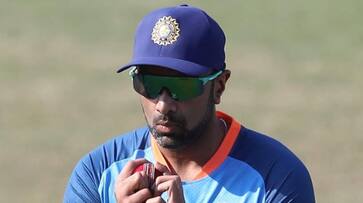 Ravichandran Ashwin has offered an intriguing perspective on the ODI Powerplay rules introduced in 2015. According to Ashwin, these rule changes were aimed at reducing India's dominance in world cricket, particularly due to their formidable spin attack. In a recent discussion, Ashwin reminisced about India's supremacy in ODI cricket during 2013-14 when spinners played a pivotal role. However, this dynamic shifted with the introduction of the new rules, allowing two new balls and altering field restrictions, which tilted the game more in favour of batsmen. Ashwin noted that these rule changes were a key reason behind the increase in high-scoring matches.
"Team India was commanding ODI cricket during the 2013-14 period. One of the main reasons for that was the absence of the rule requiring five fielders inside the circle and the introduction of the two new balls. I believe that India's dominance with spin was posing a challenge to world cricket," Ashwin stated on his official YouTube channel.
At that time, Ravindra Jadeja and Ashwin himself were the primary spinners, with occasional contributions from Yuvraj Singh and Yusuf Pathan. The presence of four fielders inside the circle made it challenging for batsmen to score freely during the middle overs. However, the introduction of the two new balls and the five-fielder rule changed the dynamics of the game, leading to a decline in matches with scores of 240-250-260," the veteran spinner added.
Also Read: Asia Cup 2023: Shubman Gill jumps to 2nd spot in ICC ODI rankings; breathes down Babar Azam's neck
Ashwin also commended KL Rahul, describing him as a budding middle-order batsman.
"Interestingly, KL Rahul wasn't initially slated to play that game; Shreyas Iyer was the intended choice. I've consistently advocated for KL Rahul at No. 5. ODI cricket should experience its ups and downs, and KL Rahul is providing us with stability in the middle order.
Batting in the middle order is genuinely challenging. MS Dhoni mastered that art. I'm not drawing a direct comparison between MS Dhoni and KL Rahul, but I believe KL Rahul is gradually perfecting his role," he elaborated.
Also Read: Asia Cup 2023: Gautam Gambhir speaks candidly when addressing India's top-order struggle against Sri Lanka
Last Updated Sep 14, 2023, 3:45 PM IST