Nasser Hussain weighs in on Virat Kohli vs Sachin Tendulkar debate amidst ODI century race
Former England captain Nasser Hussain offers a nuanced perspective on the Virat Kohli vs. Sachin Tendulkar debate as Kohli nears Tendulkar's ODI century record.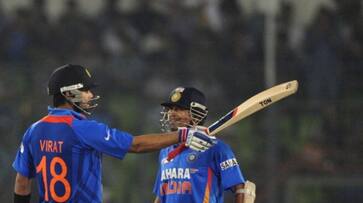 Virat Kohli is just one ODI century away from matching Sachin Tendulkar's record of 49 centuries. Undoubtedly, Virat Kohli and Sachin Tendulkar rank among cricket's all-time greats. Despite their distinct eras, comparisons between these two batting legends are inevitable, drawing the attention of fans, cricket experts, and former players. Tendulkar's international career began in 1989 and concluded in 2013, while Kohli made his senior men's team debut in 2008 and remains an integral part of the squad.
The debate on who is the ultimate ODI great, Virat or Sachin, rages on, and former England captain Nasser Hussain has added an intriguing perspective to the discussion.
When asked about the all-time ODI great between Virat and Sachin, Hussain presented a nuanced opinion.
"In my view, Sachin was the greatest batter I ever witnessed and competed against. The greatest batter in an ODI run chase is Virat Kohli. So, I'll take a neutral stance. When batting first, I'd go with Sachin Tendulkar. When chasing, it's unquestionably Virat Kohli," Hussain shared with Star Sports.
Virat Kohli has already notched significant milestones in his illustrious cricket journey. He is just one century away from matching the legendary Sachin Tendulkar's record for the most centuries in ODI cricket.
Kohli came very close to achieving this feat against New Zealand, and with several matches remaining in the ongoing Cricket World Cup 2023, it's entirely possible that the talented right-hander will soon surpass Tendulkar.
In the 2023 Cricket World Cup, Kohli is displaying exceptional form, having already accumulated three half-centuries and one century in the first five matches.
Also Read: ODI World Cup 2023: Rohit Sharma to miss India's match against England?
Last Updated Oct 29, 2023, 12:47 PM IST