ODI World Cup 2023: Virat Kohli aims to surpass Sachin Tendulkar's records in the semis against New Zealand
In the upcoming Cricket World Cup 2023 semi-final clash between India and New Zealand, all eyes are on Virat Kohli, who stands on the verge of rewriting history.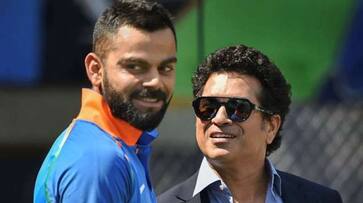 Virat Kohli, exhibiting exceptional form in the ongoing Cricket World Cup 2023, has emerged as the leading run-scorer, accumulating 594 runs in nine matches at an impressive average of 99 and a strike rate of 88.52. With two centuries and five half-centuries, including a high score of 103 not out, Kohli's recent performances in the last five matches have further solidified his prowess, amassing 335 runs at an average of 83.75 and a strike rate of 87.24.
As India gears up for the World Cup semi-final clash against New Zealand, all eyes will be on Kohli, who stands on the brink of eclipsing three significant records held by the legendary Sachin Tendulkar. Kohli, having already equaled Tendulkar's record of 49 ODI tons with two centuries in this World Cup, has the opportunity to become the first batter to achieve 50 ODI tons with another notable performance.
Moreover, Tendulkar's record for the most runs in a single edition of the Cricket World Cup (673 runs in 2003) is within Kohli's reach, with the current tally of 594 runs. Additionally, Kohli shares the record for the most fifty-plus scores in a single World Cup edition with Tendulkar and Shakib Al Hasan, and a successful innings in the semi-final would see him surpass this joint record, marking his seventh fifty-plus score in this edition.
As the top-scoring batter in this World Cup, Kohli is not only pursuing personal milestones but is also determined to play a pivotal role in guiding the team to the final.
Also Read: Mohammad Hafeez poised to replace Inzamam ul Haq as PCB chief selector
Last Updated Nov 15, 2023, 12:44 PM IST