ODI World Cup 2023: Sunil Gavaskar applauds Shreyas Iyer's remarkable performance against Sri Lanka
Sunil Gavaskar has praised Shreyas Iyer's outstanding performance in the Cricket World Cup, emphasising that Iyer was unfazed about his position despite previous scrutiny.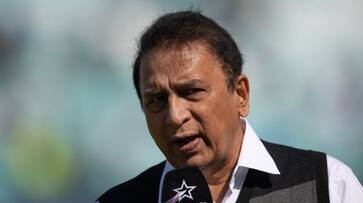 Sunil Gavaskar's significant statement regarding Shreyas Iyer in the Cricket World Cup indicates that he was unfazed about his position despite having faced criticism for a series of poor performances. India's dominant victory over Sri Lanka at Mumbai's Wankhede Stadium secured their spot in the tournament's semi-finals, thanks in part to a remarkable return to form by star batsman Shreyas Iyer. Iyer, who had been scrutinised for his recent low scores, made a resounding statement by scoring 82 runs off just 56 balls, including six sixes and three fours. Impressed by Iyer's fearless intent, former India captain Sunil Gavaskar mentioned that Iyer wasn't preoccupied with his own situation during the match.
Gavaskar noted, "As Nasser mentioned earlier, he wasn't playing to secure his place in the team. He was focused on building the team's score and taking aggressive shots. He genuinely wasn't worried about his own position, despite the questions raised about it. He has put those doubts to rest with the way he batted, particularly considering his batting position. He can quickly accumulate runs."
However, Gavaskar advised Iyer to exercise caution in his shot selection, especially when facing short-pitched deliveries. He explained, "Perhaps, at the beginning, he could be a bit more selective with his shots. This is the reason he bats at number four, whereas Rahul is at number five. Rahul serves as a backup opener in case the team loses a couple of wickets, offering experience against the new ball. Nevertheless, today, he dispelled any doubts about his batting."
Former New Zealand pacer Simon Doull shared Gavaskar's sentiments and highlighted Iyer's exceptional understanding of his role. Doull mentioned, "Shreyas Iyer demonstrates remarkable clarity regarding his role. His approach involves taking high risks and playing high-intensity cricket to maintain a high strike rate. He appears comfortable in this role, acknowledging that it can yield both exceptional and subpar performances."
Also Read: ODI World Cup: Hardik Pandya ruled out of tournament, Prasidh Krishna to take his spot in Team India
Last Updated Nov 4, 2023, 12:44 PM IST