ODI World Cup 2023: Rohit Sharma stresses on team unity over personal preferences for the mega event
In a candid interview, Rohit Sharma, the captain of Team India for the 2023 Cricket World Cup, shares his perspective on squad selection, spin bowling strategy, and the importance of team unity.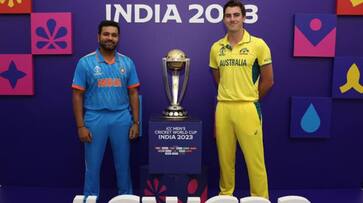 Rohit Sharma delivered a firm message to players ahead of the 2023 ODI World Cup, emphasizing that personal preferences should not come into play. He expressed his view that the World Cup is not the appropriate platform for individual choices. Rohit Sharma was clear in his belief that India's inclusion of a genuine fast bowler like Hardik Pandya opens up the possibility of deploying three specialized spinners during the World Cup. This strategic decision was discussed as India prepared for their opening match against Australia on Sunday. In their squad, India possesses left-arm wrist spinner Kuldeep Yadav, off-spinner Ravichandran Ashwin, and slow left-arm orthodox bowler Ravindra Jadeja, and Rohit hinted at the potential inclusion of all three in the playing XI, especially on pitches that might offer assistance to spinners.
When asked if he intended to field the trio of slow bowlers, Rohit responded by saying, "Yes, I mean that's the luxury we have where we can afford to play three spinners because I don't really consider Hardik Pandya as just a seamer." He emphasized that Hardik Pandya is a genuine fast bowler with the ability to generate significant pace, giving the team the flexibility to field three spinners along with three seamers if needed.
Selecting Ashwin as part of the playing XI would also enhance India's batting depth, Rohit pointed out. He explained, "It gives us that balance; gives us that number eight batting option as well. We have to come here again tomorrow afternoon and see what the pitch looks like but yeah, three spinners is definitely an option."
Rohit stressed the importance of consistency in the playing eleven, stating that, barring fitness issues, 9 or 10 players would retain their spots throughout the tournament. However, he acknowledged that the final playing XI would be determined based on the specific match conditions. He stated, "We definitely want to be a team where we want to play the best 11, but you can pick your best 11 based on the conditions that you have in front of you."
Regarding personal preferences, Rohit emphasized that they have no place in the World Cup, saying, "No one should have personal preferences. It's the team that matters and the team's goal that matters."
When it came to the middle-order batting options, Rohit indicated that experienced players like Shreyas Iyer and Suryakumar Yadav would make decisions based on their understanding of the conditions. He emphasized the importance of giving them the freedom and clarity to assess the situation in the middle and make their choices accordingly.
Regarding the unavailability of Shubman Gill due to illness, specifically dengue, Rohit expressed empathy and wished for his speedy recovery. He highlighted the human aspect, stating that he prioritized Gill's health over his availability for the upcoming match, acknowledging Gill's youth and fitness, which he believed would lead to a swift recovery.
Also Read: ODI World Cup 2023: 3 South Africans slam centuries against Sri Lanka; set the highest ever score of 428
Last Updated Oct 8, 2023, 1:40 PM IST