ODI World cup 2023: KL Rahul's brilliant 97 leads India to convincing victory over Australia
Lokesh Rahul's outstanding innings of 97 not out powered India to a resounding six-wicket victory against Australia in their opening match of the ODI World Cup.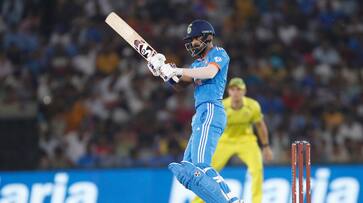 Lokesh Rahul seals the victory in a stylish manner as India comfortably defeat Australia by six wickets in their tournament opener. KL Rahul remains unbeaten at 97, narrowly missing out on a century, but the significance of the achievement is not lost on him or his teammates.
The defining moment of the match arrived when KL Rahul confronted a well-executed delivery, dispatched by the Australian bowler with precision, aimed meticulously at the stumps. KL Rahul made space for himself and lifted the ball over the extra cover region, displaying exquisite timing that saw the cricket ball soar beyond the boundary ropes with consummate ease
KL Rahul sits down with a smile on his face, acknowledging the applause from the crowd. Steven Smith extends a congratulatory handshake, and as India's number 5 strolls off the field, he receives a warm embrace from Pandya. With this victory, Australia experiences their first defeat in Chennai in an ODI World Cup match.
Earlier, In their pursuit of a challenging target of 200 runs, India found themselves on the brink of revisiting the haunting memories of past ICC tournaments.
The early demise of their top-order batsmen evoked shades of those past struggles. Ishan Kishan, in his eagerness to chase a full delivery outside the off-stump, gifted his wicket to Mitchell Starc in the very first over. Following closely, Rohit Sharma fell victim to an lbw decision off Josh Hazlewood in the following over, although the review upheld the umpire's call. Shreyas Iyer, another Mumbaikar, suffered a similar fate in the same over, caught at cover point.
Within the opening couple of overs, the scoreboard displayed a grim 2-3. Just as the Indian team found themselves in a precarious situation, KL Rahul and Virat Kohli displayed unwavering resolve, thwarting the Australian bowlers. The pair initially took their time to settle in, skillfully blending elegant strokes with well-executed strike rotations.
Virat Kohli's early escape, courtesy of a dropped catch by Mitchell Marsh, proved to be a pivotal moment that would haunt the Kangaroos later on. Subsequently, a magnificent 165-run partnership between India's number 3 and 5, complemented by some swift contributions from Hardik Pandya, ultimately sealed the victory for the Indian side with 52 balls to spare. This substantial win also provided a significant boost to India's net run rate.
Amidst the intense action, KL Rahul's audacious assault on Adam Zampa's first over, along with Virat Kohli's resilience after being struck on the helmet by Mitch Starc, were among the noteworthy highlights. However, it was the seamless synchronization between the wickets by the pair that truly stood out in this thrilling encounter.
Also Read: ODI World Cup 2023: India fightback as Kohli and Rahul shine after early woes against Australia
Last Updated Oct 8, 2023, 10:39 PM IST