ODI World Cup 2023: Kane Williamson's inclusion remains a hopeful prospect for the kiwis
The participation of Kane Williamson, New Zealand's captain, in the upcoming 2023 ODI World Cup holds promise despite his ongoing fitness challenges.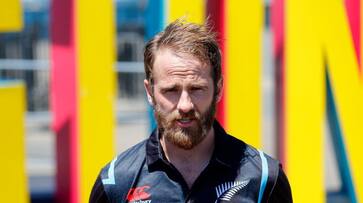 Kane Williamson's prospects of participating in the upcoming 2023 ODI World Cup remain promising, as revealed by New Zealand's head coach, Gary Stead. The management is affording the captain an additional two weeks before finalizing the squad, allowing him an opportunity to showcase his fitness and secure his place. Williamson sustained an ACL injury during this year's IPL opener on March 31, leading to immediate surgery. While the 33-year-old is currently in the rehabilitation phase and has resumed batting in the nets, he has maintained a cautious outlook on his involvement in the prestigious event set to take place in India from October to November.
Stead, who had previously indicated his willingness to have an unfit Williamson as a mentor if necessary, exudes more confidence in his timely recuperation.
"We have approximately two weeks until the squad is announced," Stead remarked. "We intend to provide him with every possible chance and fully utilize the available time."
Stead also offered an encouraging update on Williamson's recovery progress, noting his return to batting practice. However, he acknowledged the substantial effort required before making a decision on his World Cup inclusion. Stead even contemplated the possibility that Williamson might not achieve match fitness during the early stages of the tournament, even if he makes it to the final squad.
Also Read: Pakistan cricket team reveals new jerseys for Asia Cup 2023 and ODI World Cup (Watch)
"Kane is currently in full rehabilitation mode and has resumed batting practice in the nets, which is an encouraging sight. Despite this, there is a considerable amount of work that still needs to be done to ensure his readiness for the event. We are assessing all these factors at the moment. There's a chance that even if Kane is selected, he might not be available right from the start of the tournament. It's uncertain, he may or may not be prepared," Stead explained.
In the process of determining Williamson's presence in the World Cup squad, Stead disclosed his intention to engage in transparent discussions with the captain.
"His exact status remains somewhat uncertain at this stage. Undoubtedly, we would like him to be part of the World Cup. Nevertheless, we are also considering his broader career trajectory. Kane and I will have candid conversations to ensure that we make decisions that benefit both our team and Kane Williamson's long-term career."
New Zealand commences their 2023 World Cup journey with a clash against reigning champions England in Ahmedabad on October 5.
Also Read: World Cup 2023: Rohit Sharma aims to recapture pre-2019 mindset ahead of the mega event
Last Updated Aug 29, 2023, 11:50 AM IST