ODI World Cup 2023: Kane Williamson and Tim Southee set to return from injuries
New Zealand cricket captain Kane Williamson is making a promising recovery from his injury, suggesting his return to the team for an upcoming match in the World Cup. Head coach Gary Stead expresses optimism about Williamson's progress and discusses the challenges of maintaining team balance.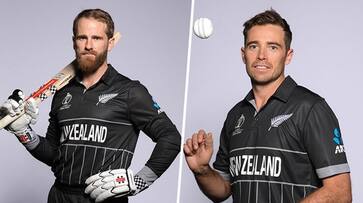 New Zealand captain Kane Williamson is on the path to recovery and is likely to return to the playing XI for their match against Bangladesh in Chennai on Friday, as announced by head coach Gary Stead. Stead expressed his satisfaction with Williamson's progress and confirmed the availability of experienced fast bowler Tim Southee.
"Kane's recovery has been impressive. Over the past five to six days, he has made significant strides, particularly in his fielding abilities," Stead remarked. "At this stage, Kane's focus has shifted from his injury to his capacity to run between wickets, field effectively, and maintain these skills throughout a 50-over game. We are pleased with the progress he has made."
Stead mentioned that two more training sessions remain before a final decision is made, but the prospects of Williamson's return for the upcoming game are looking promising. However, Stead added a note of caution, emphasizing that they are monitoring his progress closely.
Kane Williamson has been working his way back to full fitness following an ACL tear he suffered during the IPL earlier in the year. Although he participated in New Zealand's warm-up matches against Pakistan and South Africa, he did not feature in their first two World Cup games against England and the Netherlands, which New Zealand comfortably won.
Stead did not disclose who would make way in the team when Williamson returns, given Rachin Ravindra's impressive performances with a century and a half-century in his two appearances at No. 3 during the World Cup.
"If Kane is fit, he will definitely play; there's no doubt about that. He is one of the best players in the world. Our current discussions revolve around how to ensure the best team balance," Stead explained. "For instance, we included Jimmy Neesham in the first game but not the second, and that decision was based on what we believed suited the team's requirements at the time. Our discussions center on the conditions and the opposition, considering who provides the right balance in each specific situation."
Meanwhile, Tim Southee, who had surgery on his fractured right thumb before the tournament, is now fully fit and available for selection.
"Tim will be ready for selection as he has been making excellent progress. His thumb has healed well, and he has been bowling at full intensity during the past few training sessions. He is certainly ready to be considered for selection," Stead confirmed.
Also Read: ODI World Cup 2023, India vs Afghanistan preview: Can Men in Blue deliver a hiccup-free show?
Last Updated Oct 11, 2023, 12:25 PM IST