ODI World Cup 2023: Jay Shah faces backlash over bird poop filled seats and poor stadium conditions
As the cricket world gears up for the World Cup, Jay Shah and the Hyderabad Cricket Association (HCA) are under scrutiny due to dismal stadium conditions. The Rajiv Gandhi International Cricket Stadium, set to host crucial World Cup matches is plagued by bird droppings on seats, causing concern among fans.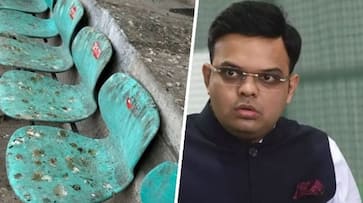 In the lead-up to the World Cup, concerns have arisen at the Rajiv Gandhi International Cricket Stadium with just one day remaining before the tournament kicks off. Some of the seats at the stadium are in a deplorable state, marred by bird droppings, painting an unsightly picture for fans who will flock to witness three crucial World Cup matches. Hyderabad is scheduled to host a total of three World Cup matches, but the dismal condition of the seats at Uppal Stadium poses a significant challenge for the BCCI and stadium management. The poor seating conditions, coupled with the bird droppings, have created a pressing issue that must be addressed swiftly, with just two days left before the matches begin.
With the clock ticking, stadium staff must prioritise cleaning and refurbishing the seats to ensure a comfortable experience for fans attending the matches. This situation has drawn the ire of fans, with some attributing the stadium's condition to Jay Shah.
Meanwhile, the Pakistan Cricket Team, currently based in Hyderabad, has utilised the Rajiv Gandhi International Cricket Stadium for their warm-up matches against New Zealand and Australia as part of their tournament preparations. In contrast, the Indian cricket team's World Cup warm-up matches were marred by rain, with games against England and Netherlands washed out in Guwahati and Trivandrum, respectively. The main tournament is set to commence on October 5th, with England facing New Zealand in Ahmedabad.
Also Read: ODI World Cup 2023: Stellar lineup of cricket commentators announced by Star Sports and ICC for the mega event
Last Updated Oct 4, 2023, 11:22 AM IST