ODI World Cup 2023, India vs Pakistan: 'There's no clear favourite or underdog' says Rohit Sharma
India's cricket captain, Rohit Sharma, showcased his poise and cricketing acumen in a pre-match press conference, addressing a diverse range of questions before the much-anticipated clash against Pakistan in the Cricket World Cup 2023.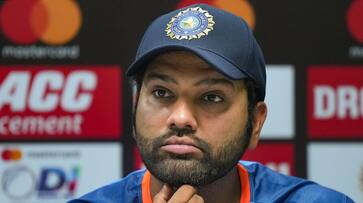 Ahead of the crucial match against Pakistan, the India captain faced a spectrum of questions, ranging from meaningful to somewhat absurd, demonstrating his adeptness in handling diverse queries. Navigating the day before a significant match against Pakistan can be demanding, even for the most seasoned India captains. The event draws attention from the press and fans alike. However, Rohit Sharma emerged from the press conference displaying his statesmanship and cricketing prowess, unruffled by the range of questions, from the thought-provoking to the slightly amusing.
Let's address the lighthearted aspect first. At one point during the press conference, a reporter inquired about tears in his eyes during the national anthem. Rohit responded with a hint of amusement, "What are you talking about? Tears in eyes?"
This moment lightened the atmosphere, and Rohit openly acknowledged that he does feel emotional during the national anthem.
Amidst the array of questions were serious inquiries, requiring delicate responses. Engaging in one of the most significant rivalries in sports, amidst an expectant home crowd in a stadium bearing the name of the Prime Minister, one wonders when the home advantage might turn into a disadvantage. Rohit took a moment to weigh the gravity of this question before providing a thoughtful response.
He stated, "I don't think there is any disadvantage. You feel nice about playing in front of your home crowd. They get behind you no matter what the situation of the game is. My overall experience playing, not just in India, even outside India, we get massive support. So, I have so far never experienced where the crowd has gone against us or anything like that."
He emphasized the advantages of playing in front of a supportive crowd and noted that the team thrives on such an environment. Rohit also discussed the pressure of expectations in a cricket-loving nation, revealing how he avoids it personally and spoke about the importance of focusing on the game and the opposition.
In the midst of the discussion, Rohit emphasized that the historic 7-0 record against Pakistan in World Cups doesn't offer a psychological advantage, reiterating the need to focus on playing good cricket on the day and managing the pressure effectively. In his view, both teams enter the game on equal footing, and it's about handling pressure and seizing control of the game.
Also Read: ODI World Cup 2023: India's expected lineup against Pakistan; Focus on Suryakumar Yadav inclusion
Last Updated Oct 14, 2023, 2:03 PM IST