ODI World Cup 2023: Rohit Sharma to miss India's match against England?
India's cricket team faces uncertainty as their captain, Rohit Sharma, is likely to miss the ODI World Cup 2023 match against England due to a wrist injury. Speculations surround his replacement, with KL Rahul expected to lead the team. Meanwhile, Hardik Pandya is also sidelined due to injury.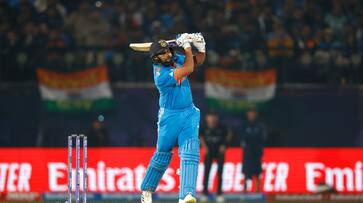 The Indian cricket team is facing a major setback as they prepare for their crucial ODI World Cup 2023 match against defending champions England in Lucknow on Sunday. Reports circulating in the media suggest that India's captain, Rohit Sharma, could miss the match due to a wrist injury he sustained during a training session. 
This news has cast significant doubt on Rohit's availability for this pivotal game. Rohit Sharma, who has been opening alongside Shubman Gill, has played a crucial role in setting the tone at the top of the order and has been instrumental in India's success in the tournament.
In light of Rohit Sharma's absence, there are speculations about who will lead the team in his place. While it has not been officially confirmed, there are discussions about the injured Hardik Pandya making a comeback for this match. KL Rahul is expected to step in as the stand-in captain in Rohit's absence.
During a pre-match conference, KL Rahul, a right-handed batsman, acknowledged the significance of Hardik Pandya in the side and expressed that his absence against England would create a notable void. Rahul also placed his confidence in Suryakumar Yadav to perform in ODIs until Hardik's return. 
Unfortunately, the all-rounder will also miss the match against England due to an ankle injury he sustained during the game against Bangladesh in Pune. KL Rahul stated, "Surya will probably get his chance, and we know what Surya can do. So, our confidence is in Surya until Hardik comes back."
When asked about the upcoming match against England, Rahul emphasized the need to focus on the present rather than dwelling on England's recent results. He recognized England as the defending champions and a formidable team, vowing that the Indian team would approach the game with the intent to compete vigorously and secure victory.
Last Updated Oct 29, 2023, 11:03 AM IST