'Legendary': Novak Djokovic's congratulatory message to Virat Kohli after 50th ODI ton wins hearts
Novak Djokovic, the tennis legend, lauded Kohli's accomplishment as 'legendary,' adding an extra layer of recognition to this significant milestone.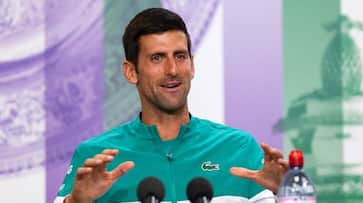 Novak Djokovic's heartwarming congratulatory message to Virat Kohli, celebrating his 50th ODI century, has captured the admiration of fans. Kohli achieved this milestone during the ICC ODI World Cup semi-final against New Zealand at Wankhede Stadium. The Indian cricket captain's remarkable century, a testament to his exceptional batting prowess, was a crucial contribution in a high-stakes match. Djokovic's recognition of Kohli's achievement as "legendary" reflects the impact of the milestone not only in the cricketing world but across sporting domains.
The camaraderie between athletes from different disciplines adds a special touch to such accomplishments, resonating with fans globally who appreciate and celebrate excellence in sports. Kohli's outstanding performance further solidifies his status as a cricketing icon.
Last Updated Nov 15, 2023, 11:41 PM IST