Kane Williamson prepares New Zealand for semi-final, Dismissing group stage positions as irrelevant
In the lead-up to the Cricket World Cup 2023 semi-final, Kane Williamson adopts a forward-looking approach, emphasising the reset that finals bring, regardless of group stage standings.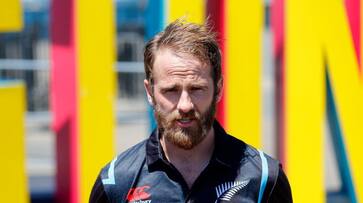 Kane Williamson, on the eve of the World Cup semi-final in Mumbai, emphasizes the reset that occurs during finals, irrespective of group stage standings. Disregarding their fourth-place finish, Williamson underlines the significance of approaching the knockout stage with a fresh perspective, acknowledging the challenges his team faced, including injuries to key players. Despite being perceived as underdogs against an impressive Indian team, Williamson remains optimistic about New Zealand's chances, drawing attention to their potential on any given day. The upcoming semi-final, a rematch of the 2019 encounter, promises to be a unique spectacle, with Williamson expressing anticipation for the passionate Indian crowd at the Wankhede Stadium.
"Come finals time, everything starts again," he said, repeatedly drawing a line under the group stages in several answers during his pre-match press conference at the Wankhede Stadium. "It's great to have got to the final stages and then take a fresh approach, because it does start again."
"When you get to finals, things start again," Williamson reiterated. "Prior to that, you're really focusing on six weeks of good cricket to hold you in good stead at the back end of round-robin play… Teams work hard to get to this stage: they have to play a lot of good cricket within the format of the tournament to get here, over such a long period of time."
They face a daunting challenge: to become the first side at this World Cup to beat India who have been the standout team with both bat and ball, sweeping all-comers aside. "We know it's going to be a really tough challenge: they're a side that's been playing extremely well," Williamson said.
"But we know as well, on our day, when we play our best cricket, it certainly gives us the best chance. And, come finals time, anything can happen… It's very much a focus on our cricket again: we've played some good cricket throughout, we've had a couple of narrow losses and a few wins along the way which have put us in this position we're in."
Williamson has only made three appearances at this tournament due to his injuries - though that represents three more games than he initially expected to play when he ruptured his ACL in the IPL earlier this year. "It's been an interesting journey, from not being a chance to getting close and it becoming a reality and something to target.
"[I was] certainly feeling really grateful to be here, and then to get back and then break my thumb… it was quite frustrating and testing. It hadn't ruled me out, so I still was grateful for that and it's nice to be fitter than perhaps I was yesterday… these tournaments are special, and world events in India certainly add to that."
Wednesday's semi-final is a repeat of four years ago, when New Zealand prevailed by 18 runs in a slow-burning, rain-affected epic. "I think the game will be a little bit different: it might be played over one day rather than two, looking at the weather," Williamson said. "It's a great occasion."
The crowd at Old Trafford was dominated by Indian fans in the 2019 semi-final, and the Wankhede will be even more partisan on Wednesday night. "We're expecting a fairly blue crowd that will be supporting their team and no doubt, they'll be very passionate about that," Williamson said.
"When you get the opportunity to play in front of those sorts of crowds, it is special. We remember over the years, a number of different crowds that we've had that haven't always been our own fans - in fact, often they're not; we have got a small country, that doesn't always fill out the stadium.
"But you still appreciate the atmosphere that it brings, and I'm sure there'll be a good one tomorrow. Guys have all different levels of experience with those things, but to me, it's about embracing it. Not many people get that opportunity: cricket in India, playing against India in a World Cup semi-final is special, and something to appreciate and look forward to."
Also Read: ODI World Cup 2023: Virat Kohli aims to surpass Sachin Tendulkar's records in the semis against New Zealand
Last Updated Nov 15, 2023, 1:10 PM IST