India vs Bangladesh: Sara Tendulkar cheering for Shubman Gill during WC clash sets internet on fire (WATCH)
In the thrilling clash between India and Bangladesh at the World Cup, Sara Tendulkar's animated support for Shubman Gill has set the internet abuzz.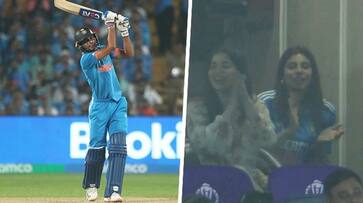 In the exhilarating encounter between the cricketing giants, India and Bangladesh, during the World Cup, Sara Tendulkar was visibly enthusiastic, applauding as Shubman Gill struck a boundary in the 7th over when his score was 10*. This delightful moment was captured on video and quickly gained widespread attention on various social media platforms. Sara Tendulkar's exuberant backing of Shubman Gill has become the talk of the town Her fervent cheers and her captivating presence amidst the crowd have sparked a viral frenzy across the internet.
The electrifying atmosphere at the stadium became even more charged with Sara's passionate support for Gill, making her an instant online sensation throughout the duration of the match. If you want to experience the electric atmosphere and Sara's spirited encouragement firsthand, don't miss the opportunity to watch the video that has taken the online world by storm.
Also Read: Happy Birthday Virender Sehwag: 7 quotes by the Nawab of Najafgarh
Here are some of the other Tweets: 
Last Updated Oct 19, 2023, 8:33 PM IST