India's Asia Cup 2023 winning moment: The man who lifted the trophy on podium revealed
While the Indian cricket team celebrated their Asia Cup 2023 victory, one figure stood out in the trophy celebration. Raghu Raghavendra, a throw-down specialist, played a vital but often unsung role in India's triumph. This tradition in Indian cricket recognises the newest player by giving them the honour of lifting the trophy first.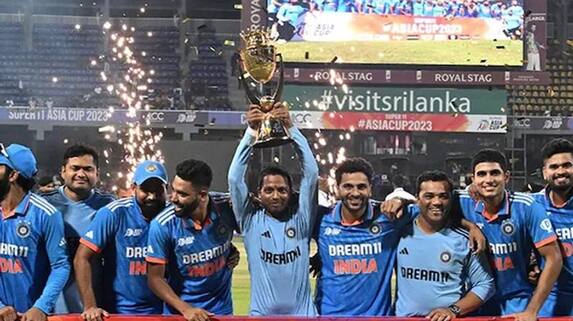 In the Asia Cup 2023 final held in Colombo, the Indian cricket team showcased a clinical performance. Bowling out Sri Lanka for a mere 50 runs, led by skipper Rohit Sharma, they then chased down the target in just 6.1 overs to secure their eighth Asia Cup title. This victory provides a significant boost to the Indian cricket team ahead of the Cricket World Cup, marking their return to ICC title-winning ways after 2013. During the trophy presentation, several Indian cricket team players had the honor of lifting the coveted trophy. Traditionally, the youngest or newest player is given the opportunity to lift it first, which was 20-year-old Tilak Varma in this instance. However, another individual joined the trophy-lifting ceremony who wasn't a player, coach, or physio with the squad.
This important figure goes by the name of Raghu Raghavendra, known as a 'throw-down specialist.' His role involves delivering throw-downs to the Indian batters during net practice sessions, using a slinger. Raghu Raghavendra is just one of the three reported throw-down specialists employed by India. Captain Virat Kohli had previously acknowledged their vital contribution to the team's success, emphasizing their significant role in honing the players' skills.
Raghavendra, hailing from the National Cricket Academy, was India's first-ever designated throw-down specialist. He has played a similar role in assisting cricket legends like Sachin Tendulkar and MS Dhoni. Following India's remarkable performance against Sri Lanka in the Asia Cup final, captain Rohit Sharma lauded the exceptional display by the fast bowlers, underscoring the invaluable variety they bring to the team. Pacer Mohammed Siraj, in particular, played a pivotal role with his outstanding spell of 6 for 21, setting the stage for India's resounding 10-wicket victory.
Also Read: Shreyas Iyer set to return as India gears up for three-match ODI series against Australia
Last Updated Sep 18, 2023, 2:45 PM IST