IND vs AUS WC Final: Virat Kohli's dismissal leaves fans stunned; Anushka Sharma's reaction goes viral (WATCH)
The unexpected dismissal of Virat Kohli against Australia sent shockwaves through fans worldwide and left Anushka Sharma disappointed as well.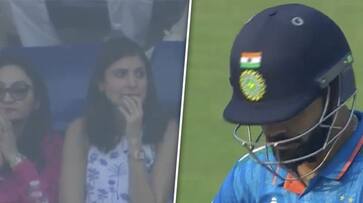 The unexpected dismissal of cricket stalwart Virat Kohli during a crucial moment in the game has left fans around the world in sheer astonishment. The iconic batsman, known for his exceptional skills and leadership, was anticipated to play a pivotal role in the ongoing match. However, a twist of fate saw his departure from the crease, triggering an outpour of emotions among the cricket enthusiasts who were eagerly anticipating his performance.
Amidst the collective gasps and stunned silence that followed Kohli's dismissal, the camera panned to capture the reaction of his wife, Bollywood actress Anushka Sharma, adding a poignant layer to the unfolding drama. Anushka, a constant presence in the stands, mirrored the sentiments of countless fans as she visibly expressed a range of emotions, from surprise to disappointment, encapsulating the intensity of the moment.
The unexpected turn of events has sparked a flurry of discussions on social media platforms, with fans dissecting the circumstances of Kohli's dismissal and sharing their thoughts on Anushka Sharma's candid reaction. The couple, known for their strong bond and mutual support, has often been a subject of public fascination, and this unscripted moment further deepens the connection between the cricketing icon and his celebrity spouse.
Also Read: Goosebumps! Over 1 lakh Indians unite for National Anthem at WC final in Ahmedabad (WATCH)
Last Updated Nov 19, 2023, 4:30 PM IST