Goosebumps! Over 1 lakh Indians unite for National Anthem at WC final in Ahmedabad (WATCH)
The 2023 Cricket World Cup final at the Narendra Modi Stadium witnessed an extraordinary spectacle as over 100,000 Indian fans came together to sing the national anthem, creating an awe-inspiring and goosebump-inducing moment.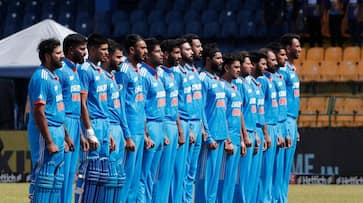 The commencement of the 2023 Cricket World Cup final at the Narendra Modi Stadium witnessed a breathtaking moment as a staggering crowd of over 100,000 Indian fans joined in singing the national anthem. The awe-inspiring scene unfolded on Sunday, creating an intimidating atmosphere for Australia, perceived as the underdogs. The viral video capturing this collective display of patriotism has resonated across social media platforms, reflecting the pride of every Indian in the nationwide support for Team India.
India, having secured victories in all 10 matches at the tournament, maintained the winning XI from their triumphant semi-final against New Zealand. Captain Rohit Sharma, expressing his preference to bat first, acknowledged the significance of the moment and the enthusiastic crowd, stating, "It's going to be amazing. The biggest occasion in terms of cricket events. We have to stay calm and get the job done."
As the hosts strive to end their global title drought since the Champions Trophy win in 2013, the unity displayed by the fans during the national anthem rendition adds a powerful and emotional dimension to the World Cup final.
Also Read: IND vs AUS WC final: No hotel rooms in Ahmedabad? THIS company is offering you a bed for free
Last Updated Nov 19, 2023, 3:56 PM IST