Did South Africa 'choke' against Australia in WC semifinal clash? SA coach makes BOLD statement
South Africa's head coach, Rob Walter, defends his team's performance in the World Cup semifinal against Australia, rejecting the notion of a choke despite the loss.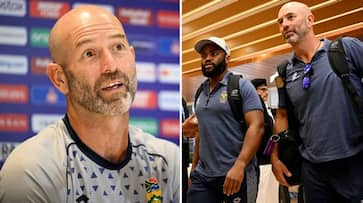 Despite South Africa's defeat in another knockout game of a global event, Head Coach Rob Walter believes their performance against Australia in the second World Cup semifinal on Thursday did not qualify as a choke. Despite a precarious start at 24/4, South Africa, led by David Miller's counter-attacking century, posted a respectable 212. Australia, in a tense chase, eventually secured victory in 47.2 overs.
Walter provided his definition of a choke, stating, "For me, a choke is losing a game that you are in a position to win. In this instance, we were behind right from the word go, and we actually fought our way back into the competition and put up a score that gave us a chance."
Expressing disappointment in falling short by 30-40 runs, Walter acknowledged the team's fight and emphasized that additional runs could have made a difference. Despite the loss, he sees the match as a serious contest between two strong teams in the tournament, highlighting the positives in South Africa's performance.
Addressing the decision to bat first after winning the toss, Walter noted the unexpected pitch behavior in the first five overs, impacting their strategy. Reflecting on the turning conditions in the evening, he stated, "Once we got 270, because it was turning so much in the evening, we knew that that was going to be our end into the game."
Walter also revealed that pace spearhead Kagiso Rabada had a bruised heel, limiting his contribution to six overs. Despite Rabada's setback, Walter praised the performance of Aiden, who stepped in admirably. The coach expressed regret over Rabada's injury, calling it a defining moment in the game.
Also Read: ODI World Cup 2023: Mitchell Starc anticipates a thrilling showdown in finals against India
Last Updated Nov 17, 2023, 12:59 PM IST