Behind the Scenes: Rohit Sharma unveils team India's offbeat rituals ahead of ODI World Cup semifinal
Indian cricket captain Rohit Sharma unveils a surprising facet of team camaraderie as he shares details about a clandestine fashion show held after the recent victory over New Zealand.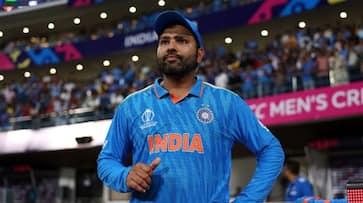 In anticipation of the ODI World Cup 2023 semifinal clash against New Zealand scheduled for Wednesday in Mumbai, Indian captain Rohit Sharma offered insights into the team's atmosphere. During the pre-match conference, Sharma shared details about a unique team-building initiative that took place after their four-wicket victory over New Zealand at the Himachal Pradesh Cricket Association (HPCA) Stadium in Dharamsala.
According to Rohit, the team's cohesive spirit is a deliberate effort, with contributions from all players and even the support staff. In a lighthearted revelation, he mentioned a clandestine fashion show that occurred in Dharamsala, adding an element of camaraderie to the team's preparations. "We wanted to build it, and that couldn't be done with one or two players. All of them have chipped in, including the support staff. We even had a secret fashion show in Dharamsala which thankfully no one knows about," remarked Rohit during the pre-match press conference.
Also Read: Dravid and co inspect the Wankhede pitch as India gears up for World Cup semi-final against New Zealand
Last Updated Nov 14, 2023, 7:28 PM IST