Babar Azam steps down as Pakistan captain after World Cup debacle; vows continued support to team's success
In a heartfelt announcement, Babar Azam resigns from his role as captain of the Pakistan cricket team, reflecting on his impactful journey since taking on the leadership in 2019.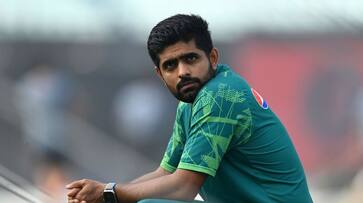 Babar Azam announces his resignation as the captain of the Pakistan cricket team, reflecting on his journey since receiving the call from the PCB to lead the team in 2019. Over the past four years, he acknowledges the highs and lows both on and off the field but emphasises his unwavering commitment to upholding Pakistan's pride in the cricket world. The attainment of the number 1 spot in the white-ball format is attributed to the collective efforts of players, coaches, and management, with gratitude extended to passionate Pakistan cricket fans for their steadfast support.
Despite the challenging decision to step down as captain in all formats, Babar Azam believes it is the right time for this transition. He expresses his intention to continue representing Pakistan as a player in all three formats, offering his support to the new captain and the team through his experience and dedication. Babar extends sincere thanks to the Pakistan Cricket Board for entrusting him with this significant responsibility.
"I vividly remember the moment when I received the call from PCB to lead Pakistan in 2019. Over the past four years, I've experienced many highs and lows on and off the field, but I wholeheartedly and passionately aimed to maintain Pakistan's pride and respect in the cricket world." said Babar
Reaching the number 1 spot in the white-ball format was a result of the collective efforts of players, coaches, and management but I'd like to express my gratitude to passionate Pakistan
cricket fans for their unwavering support during this journey. Today, I am stepping down as the captain of Pakistan in all formats. It's a difficult decision
but I feel it is a right time for this call. added Babar
"I will continue to represent Pakistan as a player in all three formats. I am here to support the new captain and the team with my experience and dedication. I want to express my sincere thanks to the Pakistan Cricket Board for entrusting me with this significant responsibility. Pakistan Zindabad" concluded Babar 
Also Read: IND vs NZ: Virat Kohli breaks Sachin Tendulkar's record in front of 'God' himself; smashes 50th ODI century
Last Updated Nov 15, 2023, 7:32 PM IST