Asian Games 2023: Shafali Verma, Jemimah Rodrigues' stellar batting display fires India into semis
In a commanding display, India storms into the Asian Games 2022 semifinals in women's cricket, propelled by stellar performances from Shafali Verma and Jemimah Rodrigues. Despite a rain-interrupted match, India's dominance remained unshaken as they set up a formidable total, securing a spot in the semi-finals with confidence.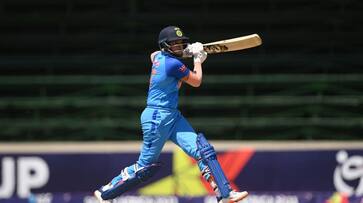 India effortlessly cruised into the semi-finals of the women's cricket event at the Asian Games in Hangzhou, and rain played a significant role in sealing their fate. In a rain-reduced 15-overs-a-side contest, India, batting first, showcased their dominance from the very beginning. Shafali Verma's explosive 67, complemented by Jemimah Rodrigues' unbeaten 47, powered India to a formidable total of 171 for 2. The rain break didn't deter their momentum as they added 113 runs off just 9.2 overs after the interruption.
Richa Ghosh provided the finishing touches with a rapid 21 not out from just seven balls, including a stunning bottom-handed shovel over extra cover for a six. However, there was a moment of concern when Shafali was struck on her right forearm, but she continued her innings before being dismissed lbw later in the same over.
Shafali's innings was characterised by her powerful hitting, particularly targeting the boundary in the arc between long-on and deep midwicket. Malaysia struggled to contain India, failing to string together three dot balls in the innings.
India's semi-final opponent could potentially be Bangladesh, pending the outcome of their quarter-final match against Hong Kong. The clash between India and Bangladesh promises to be a compelling encounter, given their recent history, with Bangladesh proving their mettle during the July tour against India, where they secured victories and a tie in a series of white-ball games. Off the field, disputes over umpiring decisions led to heated exchanges between the teams.
Also Read: MS Dhoni joins Ganesh Chaturthi celebration amid World Cup excitement - Watch
Last Updated Sep 21, 2023, 1:23 PM IST