Asian Games 2023: Chinese cricket enthusiast travels from Beijing to Hangzhou to watch Smriti Mandhana play
A remarkable tale unfolds as a passionate Chinese cricket fan, Jun Yu, embarks on a 1200-kilometer journey from Beijing to Hangzhou to witness Indian women's cricket vice-captain, Smriti Mandhana, showcase her skills at the Asian Games 2023.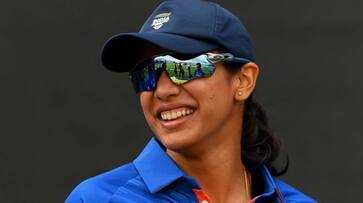 A dedicated Chinese cricket fan, Jun Yu, embarked on a remarkable journey from Beijing to Hangzhou to witness the talented Indian women's cricket vice-captain, Smriti Mandhana, in action. This unique story gained viral attention when he proudly displayed a poster reading 'Mandhana The Goddess.' In a land where cricket is relatively uncommon, Jun Yu's passion for the sport was ignited when he delved into YouTube's vast repository of cricket videos, becoming captivated by the skills of cricket legends such as Sachin Tendulkar, Virat Kohli, and Mandhana herself.
Jun Yu's fascination with cricket was not limited to Indian cricket stars; he also admired Jasprit Bumrah's exceptional performance against Australia in the 2019 World Cup and followed players like Rohit Sharma, Suryakumar Yadav, and more. Surprisingly, cricket lessons were offered at his university in Beijing, allowing him to gain a basic understanding of the game. Although cricket has yet to gain significant popularity in China, with only a few venues and limited awareness, Yu's dedication led him to the Pingfeng cricket field at Zhejiang University of Technology to witness the Asian Games cricket event.
Notably, the Pingfeng cricket field, where the matches were held, was originally a flower garden, transformed into a cricket field for the Asian Games. Yu, who holds New Zealand's Kane Williamson as his favorite cricketer, praised Sachin Tendulkar as a true legend of the sport. Despite his love for cricket, Yu could not stay for the men's tournament due to academic commitments, having spent 1000 Yuan (INR 11,400) to travel from Beijing to Hangzhou. However, his passion for the game and dedication to witnessing cricket in action made him a memorable part of the event.
Interestingly, Yu's presence was not the only international flavor at the cricket field, as a few Indians also attended the matches, waving their national flag and experiencing cricket in China for the first time. One of them, Navneet Singh, originally from Delhi but residing near Hangzhou, expressed his excitement at watching a cricket match in China, despite the sport's limited presence in the country.
Also Read: Proud to win Gold for India, says women's team star Jemimah Rodrigues after Asian Games 2023 feat - WATCH
Last Updated Sep 26, 2023, 9:33 AM IST