Proud to win Gold for India, says women's team star Jemimah Rodrigues after Asian Games 2023 feat - WATCH
Jemimah Rodrigues, a shining star of the Indian women's cricket team, shares her sentiments and pride in clinching the Gold medal for India at the Asian Games 2023.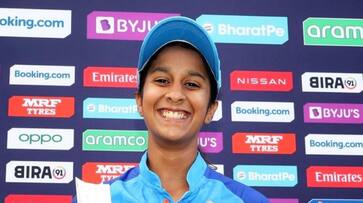 In a heartwarming moment that encapsulated the dedication and passion of Indian women's cricket, Jemimah Rodrigues, one of the stars of the team, expressed her immense pride after winning the Gold medal for India at the Asian Games 2023. In an interview that captured the jubilation and camaraderie of the victorious squad, Jemimah shared her thoughts on this historic achievement.
"We have been playing a lot of cricket in the last 3 years, so I think it's experience, and again, to win a Gold medal for India is very special," Jemimah beamed with pride. Her words resonated with the sentiments of millions of cricket enthusiasts across the country who had watched in anticipation as the women's team battled their way to victory.
The journey to clinch the Gold medal was far from easy. The team faced formidable opponents, with each match bringing its own set of challenges. However, it was this very perseverance and resilience that defined the Indian women's cricket team throughout the tournament. Their unwavering commitment to the game, coupled with their remarkable skills, culminated in the historic Gold medal win.
Jemimah Rodrigues herself played a pivotal role in the team's success, contributing with her remarkable batting prowess and athletic fielding. Her performances, along with those of her teammates, showcased the depth of talent and the bright future of women's cricket in India.
Also Read: Who is Titas Sadhu, the West Bengal cricketer who powered Indian women's Asian Games 2023 gold?
Last Updated Sep 25, 2023, 5:20 PM IST