Asia Cup 2023: Will Mohammed Shami play in the highly anticipated India vs Sri Lanka final?
The spotlight is on Mohammed Shami's potential inclusion in India's lineup for the finals against Sri Lanka. After experimenting with combinations in their previous match against Bangladesh, team India faces crucial decisions regarding player selection.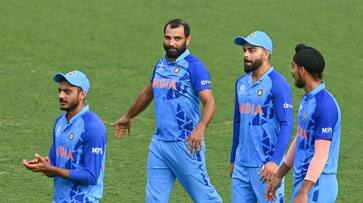 The inclusion of Mohammed Shami in the lineup for the Asia Cup 2023 final adds an element of intrigue. After experimenting with their team composition during the match against Bangladesh, Team India is expected to reintroduce Virat Kohli, Hardik Pandya, and Mohammed Siraj into the starting lineup. The selection of Mohammed Shami is another intriguing aspect to watch. In the event of rain disruption on Sunday, a reserve day has been scheduled for the match. Both teams boast 13 Asian titles, and Sri Lanka has a knack for making surprising appearances in tournament finals, much to the excitement of fans eager for an India-Pakistan showdown.
Team India enters this crucial clash following an unexpected six-run loss to Bangladesh in their last Super Four match of the Asia Cup. In that encounter, led by Rohit Sharma, the team experimented with new combinations, resulting in Virat Kohli, Mohammed Siraj, Kuldeep Yadav, and Hardik Pandya sitting on the bench.
India's bowling coach, Paras Mhambrey, stated that the decision to exclude Mohammed Shami from the playing XI was made in the best interest of the side earlier in the tournament. In his last appearance against Nepal, Shami claimed one wicket while conceding 29 runs.
"It's not very easy to drop someone like Shami. The experience that he has and the performance that he has done for the country is phenomenal. It's never easy to have that kind of a conversation (dropping a player)," he said.
Mhambrey said while it was a difficult choice, the player concerned has been conveyed clearly about the team decision. "But we are clear in the way we have gone about the conversation with the players and they have shown confidence in us.
"Players know any decision that we take and they know that it is for the benefit of the team," said Mhambrey.
Also Read: Asia Cup 2023 Final: India battles Sri Lanka for Cricket glory in Colombo showdown
Last Updated Sep 17, 2023, 2:21 PM IST