Asia Cup 2023: Virat Kohli vs Babar Azam; A battle that could shape India vs Pakistan encounter
In the highly anticipated Asia Cup 2023 showdown between India and Pakistan, all eyes are on the face-off between cricketing giants Virat Kohli and Babar Azam.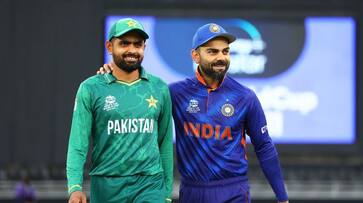 Virat Kohli and Babar Azam, the star batters of the Indian and Pakistani cricket teams, respectively, take center stage in the much-anticipated Asia Cup 2023 clash scheduled for September 2. These two batting talents are the shining stars of the subcontinent, with their performances set to determine the outcome of this crucial match in Sri Lanka, while also providing valuable confidence ahead of the Cricket World Cup.
Both Kohli and Babar have consistently been among the top run-scorers in ODI cricket over the past few years. Since 2015, Virat Kohli has notched up the most runs in the world, amassing 6690 runs in 127 innings with an impressive average of 62.50. During this period, he has recorded 32 half-centuries and an astonishing 25 centuries, making him the leading centurion in ODIs. Babar Azam, on the other hand, ranks third in this list, accumulating 5353 runs in 102 innings at an average of 59.50, accompanied by 28 half-centuries and 19 centuries.
Virat Kohli currently stands as the fifth-highest run-scorer in ODI history and is on the brink of joining the elite club of players with 13,000 runs, needing only 102 more runs to achieve this milestone. Notably, he is set to become the second Indian player and the fastest, in terms of innings played, to reach 13,000 ODI runs, surpassing this remarkable feat in just 265 innings.
Meanwhile, Babar Azam showcased his prowess by notching his 19th ODI century (scoring 151 runs) during the opening game of the Asia Cup 2023 against Nepal. This remarkable achievement marked the second-highest individual score by any batsman in Asia Cup ODIs. Furthermore, Babar holds the distinction of being the quickest player, in terms of innings played (102), to accumulate 19 ODI centuries, setting a record in this regard. Impressively, Babar has outperformed Virat Kohli's statistics in their first 102 ODI innings, amassing 5353 runs with an average of 59.50, whereas Kohli had scored 4243 runs at an average of 48.80 during the same period.
Also Read: Asia Cup 2023, India vs Pakistan: Not Virat Kohli, Wahab Riaz warns team about this Indian star
Last Updated Sep 2, 2023, 1:56 PM IST