Asia Cup 2023: Lack of net run rate understanding cost team Super 4 spot, admits Afghanistan coach
Jonathan Trott, coach of the Afghanistan cricket team, has openly admitted to a lack of awareness that led to their elimination from the Asia Cup 2023.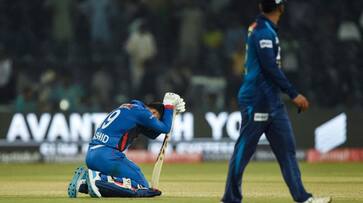 Jonathan Trott, the coach of Afghanistan's cricket team, has acknowledged a major oversight that cost his team a spot in the Asia Cup 2023 Super 4 stage. Despite being a Test-playing nation with ample support staff, Afghanistan was unaware of the basic net run rate calculations needed to secure qualification. Trott expressed his team's lack of communication regarding these crucial calculations during a post-match press conference. Afghanistan's hopes hinged on chasing down a 292-run target within 37.1 overs, but they were oblivious to the fact that runs scored beyond the required target could improve their net run rate. This misunderstanding ultimately led to their elimination from the tournament.
The crucial missed calculations in Afghanistan vs Sri Lanka Match
In the Afghanistan vs. Sri Lanka match, Afghanistan needed to chase 292 runs within 37.1 overs to qualify for the Super 4 stage. However, they were unaware that hitting boundaries beyond this requirement would still benefit them by increasing their net run rate. The highest they could have reached was 297, which would have given them six extra deliveries. This miscalculation had critical implications in the match's closing moments.
Missed opportunities and consequences
In the game's final over, when Afghanistan required just three runs off one ball, the team had the opportunity to secure a single run to bring their key batsman, Rashid Khan, back on strike. Rashid, batting at 27 off 16, needed to either hit a four within the next two deliveries or a six within the next five balls to secure their qualification. Unfortunately, the team's lack of awareness led to an ill-fated attempt to score three runs off one ball, resulting in a straightforward catch and their subsequent elimination from the tournament.
Responsibility and Reflection
While the match referee should have communicated various scenarios to Afghanistan, the primary responsibility for this oversight falls on the team's support staff, particularly the analysts. These essential net run rate calculations, although simpler than complex DLS calculations, should have been thoroughly understood and communicated to the team. Trott acknowledged that the team made errors in multiple areas of the game, and this lack of awareness in net run rate calculations ultimately proved costly.
Also Read: Asia Cup 2023: Venue change uncertainty; Colombo vs Hambantota amid weather worries
Last Updated Sep 6, 2023, 1:05 PM IST