Asia Cup 2023, India vs Pakistan: Will under-fire KL Rahul be included in playing XI?
KL Rahul is set to make a comeback, while Jasprit Bumrah returns after missing a game. The weather forecast adds uncertainty, but fans eagerly anticipate a contest that promises to be highly entertaining.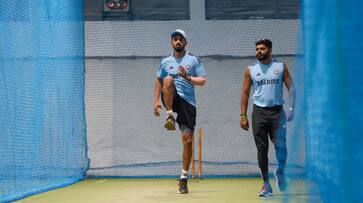 All eyes are on Rahul's comeback, while Bumrah also returns to the squad after missing the Nepal game due to the birth of his child. The tournament has shifted to Colombo, where India and Pakistan are eager to renew their rivalry after rain played spoilsport in Pallekele. However, the weather remains a concern, with a high likelihood of precipitation, reaching up to 90% on September 10. Fortunately, there is now a reserve day allocated for this game, making it the only match apart from the final to enjoy this privilege, although the weather forecast remains grim.
India's match against Nepal was also affected by rain. If Colombo's weather clears up, it will serve as a test for KL Rahul and Jasprit Bumrah's readiness for the ODI World Cup. Rahul hasn't participated in an ODI since March, while Bumrah hasn't bowled in one since July. Accommodating Rahul in the XI may necessitate benching Ishan Kishan, who has consistently delivered with four consecutive half-centuries in the format, presenting a challenging decision for the team management.
During the brief play in Pallekele, India's batsmen and Pakistan's bowlers hinted at an enthralling contest. Whether Colombo experiences a similar scenario or another round of rain across two days remains uncertain.
In the spotlight: KL Rahul and Naseem Shah
KL Rahul, after a four-month absence from the ODI setup, is poised to make his return. Despite Kishan's recent impressive performances, Rahul has received the selectors' and team management's vote of confidence. India's captain Rohit Sharma has suggested the possibility of having both Rahul and Kishan in the XI, but this seems unlikely. The upcoming match against Pakistan on Sunday offers Rahul the opportunity to prove his fitness and form.
Naseem Shah may not possess the banana swing of Shaheen Shah Afridi or consistently reach speeds of 150kph like Haris Rauf, but the 20-year-old can make the ball skid off the pitch due to his relatively shorter stature. In his T20I debut against India at the Asia Cup in Dubai last year, he dismissed Rahul for a first-ball duck and came close to dismissing Virat Kohli in the same over. Can Naseem replicate his success against Rahul in the 50-over Asia Cup match on Sunday?
Also Read: Asia Cup 2023: Rain threat looms over Pakistan vs India clash in Colombo
Jasprit Bumrah's Return
After missing the Nepal game for the birth of his first child, Bumrah has rejoined the squad for the Super Four round and is expected to return to the playing XI alongside Rahul. This could potentially mean that there is no room for both Mohammed Shami and Kishan in the lineup.
Last Updated Sep 10, 2023, 10:45 AM IST