Coronavirus: South African cricketer tests positive for COVID-19
'So last year I got GBS, and have been battling this disease for the past 10 months and I'm only half way through my recovery. I got TB, my liver failed and my kidney failed. Now today I tested positive for corona virus,' Solo Nqweni said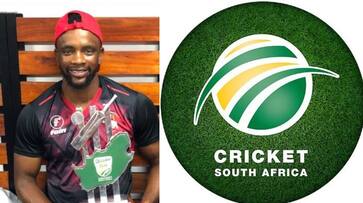 Johannesburg: A South African cricketer has announced that he has tested positive for coronavirus (COVID-19).
Solo Nqweni, the 26-year-old all-rounder took to the micro-blogging website Twitter to reveal that he had tested positive for COVID-19.
Also read: David Warner picks India-Australia IPL XI
"So last year I got GBS, and have been battling this disease for the past 10 months and I'm only half way through my recovery. I got TB, my liver failed and my kidney failed. Now today I tested positive for corona virus. I don't understand why all of this is happening to me," Nqweni, who played in the ICC Under-19 World Cup in 2012, wrote.
Also read: Yuvraj Singh's father Yograj targets Virat Kohli
Nqweni, a right-hand batsman and right-arm medium fast bowler, has so far played 36 first-class matches, 44 List A (50 overs) and 34 T20s. He plays for Eastern Province in South Africa domestic leagues.
Last year, while playing for Aberdeenshire Cricket Club in Scotland, Nqweni was diagnosed with Guillain-Barre Syndrome. In January this year, a gofundme page was set up to collect funds for Nqweni's treatment.
"Guillain-Barre syndrome (GBS) is a rare condition affecting the nerves that control our senses and movements (peripheral nerves) including the facial nerve. The disease essentially tricks the nervous system which results in the immune system attacking its own body with most damage to the nerves," the gofundme page said.
When he was recovering in hospital, England's World Cup winning all-rounder Ben Stokes had visited him. Also, South Africa's national team's cricketers had contributed 50,000 Rand for Nqweni's rehabilitation costs.
"Through the good and difficult times, players always stand together and this is no different. The decision to stand by Solo, as part of the cricket family was an easy one to make," said former South Africa captain Faf du Plessis.
"On behalf of the Proteas, we would like to wish Solo all the best with his rehabilitation and we hope to see him on the field in the future," said Quinton de Kock, Proteas ODI captain.
Last Updated May 8, 2020, 10:37 AM IST