Coronavirus lockdown: Virat Kohli unveils new look; wants fans to take up challenge, says he will respond
Fans, get ready to receive a response from India captain Virat Kohli. He has asked you to send your new look during the coronavirus (COVID-19) lockdown. He has done it. Do you like his new look?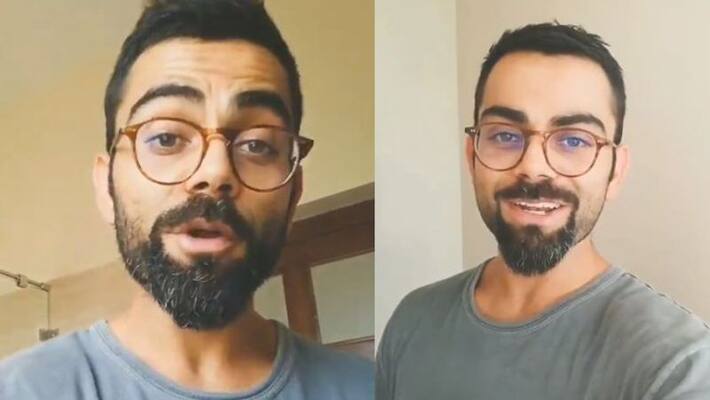 Bengaluru: India captain Virat Kohli on Saturday (April 18) threw a challenge at his fans during the lockdown in the country due to the coronavirus (COVID-19) pandemic.
Recently, Prime Minister Narendra Modi extended the lockdown until May 3 to contain the spread of the virus. During these difficult times, cricketers and other sportspersons, film actors have been urging all Indians to stay at home.
Also read: List of cricketers who have donated to PM CARES Fund
Kohli and his actress wife Anushka Sharma have been active on social media, posting messages for their fans. They have also been asking citizens to stay home and stay safe.
Also read: Telangana minister asks Twitter user to follow Virat Kohli's method on haircut
On Friday (April 17), Kohli and his IPL team Royal Challengers Bangalore (RCB) had posted a video saluting the frontline heroes who are fighting the virus. Today, it was RCB captain's turn to unveil his new look and pose a new challenge to his fans.
"While we're all indoors, it's extremely important to do stuff that makes you feel good. Staying well groomed is one of the things that keeps me in the zone. So I thought of giving myself this new look. (Smiling face with smiling eyes emoji) I want all of you to take the #TrimAtHome challenge & post your new look! (Smiling face with sunglasses emoji) (sic)," Kohli wrote on his Twitter page with a video of him trimming his beard.
He called the new look as "fresh" and said he liked it. He asked fans to send in their trimmed looks and said he will respond to them.
Earlier, Anushka had given Kohli a haircut with kitchen scissors. She had posted a video on her Instagram page. In the video, Kohli said, "This is what quarantine does to you. We allow things like this to happen. Getting a haircut with kitchen scissors! Can you see this gradual fade? Beautiful haircut by my wife."
Last Updated Apr 18, 2020, 5:16 PM IST