BTR Shield: Rahul Dravid's sons Samit, Anvay put on 260-run partnership in Bengaluru
Rahul Dravid's sons Samit Dravid and Anvay Dravid dazzled in the BTR Shield Under-14 school cricket tournament. They had a double century partnership and helped Mallya Aditi International School enter the semi-finals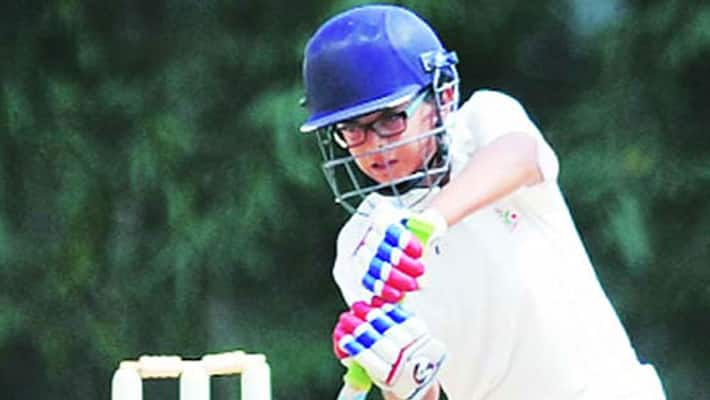 Bengaluru: Batting legend Rahul Dravid's son Samit Dravid (pictured above) continued his rich vein of form to guide Mallya Aditi International School into the semi-finals of the BTR Shield tournament for Under-14 years (Group 1, 2nd Division) in Bengaluru recently.
Also read: Samit Dravid hits 201, 94 not out in same match
Playing against Vidyashilp Academy, captain Samit hit 166 off 131 balls and later took four wickets. Mallya Aditi International School won by 148 runs in their quarter-final contest. In the same match, Rahul Dravid's younger son wicketkeeper-batsman Anvay too dazzled with the willow, scoring 90.
Also read: Samit shines with all-round show
Samit and Anvay had a partnership of 260 runs off 224 balls with the former contributing 151 and the latter 86.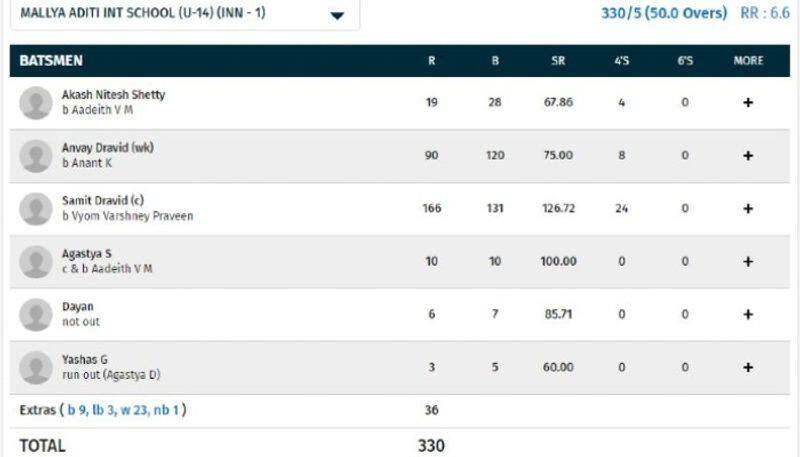 Earlier in the tournament, Samit had hit a double century (211 not out) against BGS National Public School. Prior to this, in the KSCA Under-14 inter-zonal tournament, Samit had hit 201.
Also read: Samit hits ton in South Zone U-14 tournament

Brief scores
Mallya Aditi International School: 330/5 in 50 overs (Anvay Dravid 90, Samit Dravid 166 (131 balls, 24x4), Aadeith VM 2/60) beat Vidyashilp Academy: 182 all out in 38.5 overs (Pranav Prakash 22,Vyom VP 29, Agastya D 54, Samit Dravid 4/35, Dayan 3/29, Joshua G 2/40) by 148 runs.
St. Francis School, ICSE: 227/8 in 50 overs (Abhiram KN 25, Jash R Patel 53, Abhishek 20, Chirag 28, Jagath Babu 36, Bharath M 2/45, Kushal Jain 2/40) beat Carmel High School, B – 79: 185 all out in 46.4 overs (K Kishan Gowda 36, Bharath M 21, Hanish S Adhi 45, Aneesh 2/29) by 42 runs.
Vidyaniketan Public School, CBSE: 150 all out in 39 overs (Sankalp K Teil 21, Avaneesh RP 37, Arnav Mishra 2/11, Tejas Sahay 2/25, Abhinav PJ 3/24, Karthikeyan V 3/14) lost to BGS National Public School: 151/2 in 29.5 overs (Arnav Mishra 102 not out (93 balls, 19 X 4)) by 8 wickets.
Sri RV School, Kolar: 159 all out in 47 overs (Gagan CM 20, Monish Kathik 42, Kishan P 34, Arjun Y 2/47, Adriesl Edward 3/29, Kevin D 2/27) beat St. Joseph's Indian High School: 107 all out in 45 overs (Tarun S 25, Monish Karthik R 2/13, Kishan P 2/14, Nikhil N 2/26, Rahul Ram L 2/15) by 52 runs.
Last Updated Feb 25, 2020, 10:10 AM IST