Samit Dravid's ton helps Karnataka bag 3 points in South Zone U-14 tournament
Samit Dravid hit an unbeaten century as Karnataka bagged three points against Goa in the South Zone Under-14 tournament in Bengaluru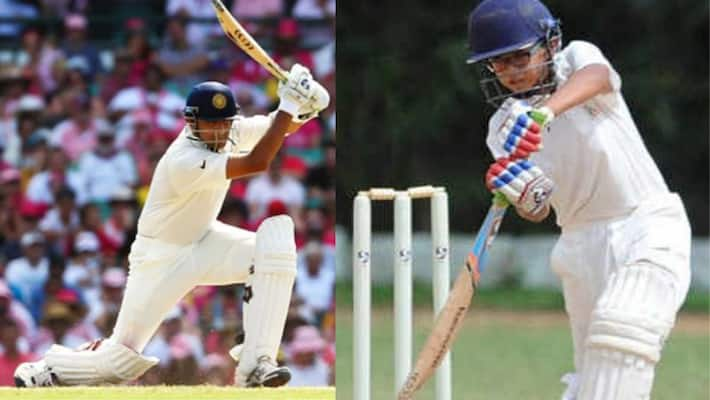 Bengaluru: Batting legend Rahul Dravid's son Samit Dravid hit an unbeaten century to help Karnataka garner three points in their drawn encounter against Goa in the South Zone Under-14 tournament.
On the second and final day on Monday (January 20), Samit hit 109 not out off 180 balls with 15 boundaries. He had resumed the day at 86 not out. Karnataka declared at 245/3 in 66 overs.
Also read: All-round show by Samit Dravid
Thanks to the first innings lead, the hosts secured three points at the Alur-2 ground in Bengaluru. In the second innings, Goa were 117/5. In the first innings, the visitors were bowled out for 84.
Hyderabad and Pondicherry too claimed three points apiece from their drawn matches on Monday. Hyderabad drew against Kerala while Pondicherry and Tamil Nadu game too ended in a stalemate.
Also read: Samit hits double century
Brief scores
At Alur-1 ground
Hyderabad Cricket Association: 245 all out in 85.3 overs drew with Kerala Cricket Association: 243 all out in 78 overs (Ahamed Imran 40, Adwaith Prince 21, Akshay SS 79 not out, Abin J Lal 21, Imran Ghouri 3/35, Maneesh Dongari 2/43)
Hyderabad: 3 points; Kerala: 1 point
At Alur-2
Goa Cricket Association: 84 all out in 34.1 overs and 2nd Innings: 117/5 in 87 overs (Darpan Dinesh Pagvi 28, Nisarg Nilesh Nagvekar 31 not out, Hardik Raj 2/7, Karthikeya KP 2/20) drew with Karnataka State Cricket Association: 245/3 declared in 66 overs (Samit Dravid 109 not out (180 balls, 15x4), Kanishk M 51 not out)
Karnataka: 3 points; Goa: 1 point
At Alur-3
Tamil Nadu Cricket Association: 219 all out in 89 overs drew with Cricket Association of Pondicherry: 220/9 in 90 overs (Hemanth Rathi 26, Ragavan R 25, Kushwanth Silora 50, Eshwar Rithvik G 72, Pravin R 2/31, Neelesh B 3/41) 
Pondicherry: 3 points; Tamil Nadu: 1 point
Last Updated Jan 21, 2020, 10:10 AM IST