Visible coronavirus to help West Bengal Police keep people at home
The administration has repeatedly requested people to stay home. However, a large number still gather on the streets, ignoring the lockdown rules. Changing their tactic, district police of West Bengal's Birbhum plan to unleash life-size "coronavirus", towards any crowd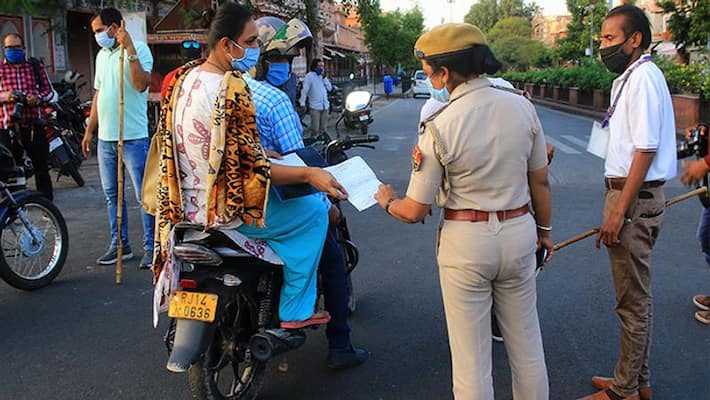 The administration repeatedly requested people to stay home, but a large number still come out onto the streets, ignoring the lockdown. At first, police used force to send people home. But that worked only to an extent. Moreover, the police were accused of being reckless. The situation remains the same. So, the police have had to change tactics. In West Bengal's Birbhum district, police have planned to unleash a life size 'coronavirus' towards any large crowd.
Also read: Residents of Bengaluru beware! Drones are keeping an eye on lockdown violators
Special 'coronavirus' attire has already been made for this purpose. Policemen will wear dresses to disguise themselves as the deadly virus.
For this purpose, separate 'corona teams' have been formed in each police station of Birbhum, said district superintendent of police Shyam Singh. The team will also consist of professional theatre artists. Donning the special 'Corona Dresses', these teams will travel through the district, and strike wherever people are seen gathered.
District police officials said that in the last few days, they understood that people have not realised the danger of this virus. Coronavirus is not visible to the human eyes. So, they could not understand how it could spread, they say, adding that until they get the call from within, police cannot convince them to stay at home. So, district police have created life-size 'coronavirus' models so that people can see the danger.
Lockdown period is almost over. At present, in Midnapur, Jhargram, Balurghat and many other cities and towns of West Bengal, local authorities are using street paintings to spread awareness about coronavirus. How this virus could spread, what are the symptoms, how to protect yourself from infection - all these messages are delivered through these paintings. This time Birbhum has gone a step further.
Last Updated Apr 9, 2020, 7:35 PM IST