Unveiling 'Dogxim': World's first dog-fox hybrid found in Brazil sparks scientific intrigue - WATCH
The article discusses the surprising discovery of the world's first dog-fox hybrid in Brazil, highlighting its unique characteristics, genetic testing, and the implications for wildlife science.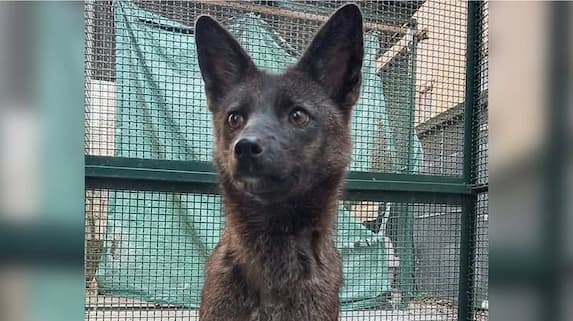 Wildlife enthusiasts were left astonished by the unearthing of the world's inaugural dog-fox hybrid in Brazil. Dubbed 'dogxim,' this enigmatic creature was encountered following a car collision in 2021, as reported by Newsweek. The veterinary hospital staff at Universidade Federal do Rio Grande do Sul encountered a conundrum as they couldn't definitively classify the animal as either a dog or a fox. This perplexity prompted scientists to conduct genetic tests, the outcomes of which have now been revealed, establishing the 'dogxim' as the first-ever documented hybrid of a dog and a fox.
"For us biologists and veterinarians, it is normal to look at all animals differently. We're trained to look for what's common and what's different when we look at an animal. And that's what happened," researcher Cristina Araujo Matzenbacher told Newsweek.
"She had eyes resembling a domestic dog, and long ears resembling a pampas fox, although she had a dark coat and barked like a dog," the expert added.
The discovery was made more intriguing by 'dogxim's' behavior, particularly its preference for rejecting dog food while readily accepting small rats as sustenance. Observations also noted the animal's agility in climbing bushes within its environment.
A comprehensive study on 'dogxim' has been documented in a paper published by MDPI. The team of experts at the veterinary center employed cytogenetics and advanced DNA testing techniques, yielding remarkable findings. The genetic analysis unveiled that 'dogxim' possessed 76 chromosomes, a critical clue in unraveling the mystery surrounding this unique creature.
"In Rio Grande do Sul, only the Chrysocyon brachyurus has 76 chromosomes, however, this species is very different in the phenotype when compared with the 'dogxim'," Rafael Kretschmer told Newsweek.
Pampas foxes typically exhibit 74 chromosomes, while domestic dogs are known for having 78 chromosomes.
Last Updated Sep 18, 2023, 5:53 PM IST