'She is home': Israeli female soldier who was in Hamas captivity since October 7 rescued from Gaza
The Israel Defense Forces (IDF) and Israel Securities Authority (ISA) on Monday released a joint statement announcing the rescue of a female Israeli solider taken hostage by Hamas.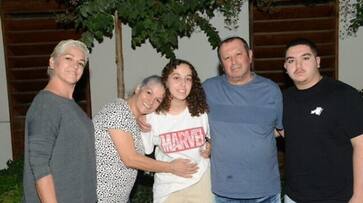 The Israel Defense Forces (IDF) and the Israel Securities Authority (ISA) on Monday announced the successful rescue of a female soldier who was held captive by the Hamas terror group in the Gaza Strip. In a joint statement, the IDF and ISA confirmed that Private Ori Megidish is now in good condition and has been reunited with her family.
The IDF reported that Megidish was rescued during a ground operation conducted overnight. However, specific details about the operation have not been disclosed.
"Tonight, the female soldier Private Ori Megidish was released, during a ground operation, after she was kidnapped by the terrorist organisation Hamas on 7/10. The soldier was medically examined, her condition is good and she met with her family. The IDF and Shin Bet will continue to make every effort to bring about the release of the abductees," said IDF in a statement.
Private Ori Megidish, who served as an observation soldier, was taken captive by Hamas when the terrorist group attacked the Nahal Oz base on October 7.
Foreign Minister Eli Cohen congratulated the IDF and ISA for bringing Private Ori Megidish home, adding, "We will continue to act to free all the captives."
Former Defense Minister Benny Gantz affirmed Israel's unwavering commitment to relentlessly pursue the release of hostages held in Gaza following the successful liberation of an IDF soldier in a recent military operation. "We will continue to make every effort, by every means, in order to bring home our girls and boys," Gantz said.
Meanwhile, Israel PM Benjamin Netanyahu said that the country is making 'systematic progress' in its military campaign against Hamas in Gaza. At the start of a war cabinet meeting, Netanyahu said the IDF "has expanded its ground entry into the Gaza Strip. It is doing it in measured, very powerful steps, making systematic progress one step at a time."
Last Updated Oct 30, 2023, 10:35 PM IST