New island born off Japan's Ogasawara island is crumbly, susceptible to erosion (WATCH)
A new island has emerged near Japan's Ogasawara island chain due to an undersea volcano eruption, forming through phreatomagmatic eruptions caused by the interaction of magma with seawater. This unnamed island, approximately 100 meters in diameter, appeared off the southern coast of Iwo Jima after eruptions started on October 21.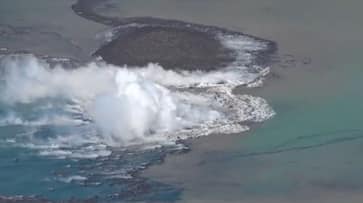 In a remarkable natural phenomenon, a new island has emerged near Japan's Ogasawara island chain following the eruption of an undersea volcano in late October. This unnamed island, formed by phreatomagmatic eruptions resulting from the interaction of magma with seawater, spans 100 meters in diameter. The undersea volcano, situated approximately 1 kilometre off the southern coast of Iwo Jima (Japan calls it Ioto), commenced eruptions on October 21, leading to the rapid accumulation of volcanic ash and rocks on the shallow seabed.
Within just 10 days, the tip of the volcano rose above the sea surface, transforming into a new island measuring around 100 meters in diameter and reaching a height of up to 20 meters above sea level by early November. Yuji Usui, an analyst in the Japan Meteorological Agency's volcanic division, highlighted the significance of this event, noting that while volcanic activity has increased near Iwo Jima in recent years, the creation of a new island is a noteworthy development.
Despite the initial formation, volcanic activity has since subsided, causing the newly formed island to diminish somewhat. The island's "crumbly" composition makes it susceptible to erosion by waves. 
Interestingly, the emergence of this isle bears a resemblance to the formation of another island in 2013, which eventually merged with Nishinoshima, an island in the Ogasawara chain. Nishinoshima itself originated from an underwater volcanic eruption, growing to about 2 kilometres in diameter over time.
According to the Japan Meteorological Agency, volcanic tremors have been consistently detected on Iwo Jima since October 21, followed by eruptions off its southern coast. 
This region has experienced heightened volcanic activity, with Iwo Jima situated south of Ogasawara Island and approximately 60 kilometres north of the Fukutoku-Okanoba underwater volcano, which had a significant undersea eruption in 2021.
Notably, the geological activity in this area is not a recent occurrence. In July 2022, the region witnessed a magmatic eruption off the southeastern coast of Iwo Jima, coupled with a phreatomagmatic eruption. Subsequent eruptions occurred in June and October, underscoring the dynamic geological processes in this part of the Pacific Ring of Fire.
Last Updated Nov 10, 2023, 3:40 PM IST