Light humor ahead of G20 Summit: Russian Ambassador Denis Alipov teases Sergei Lavrov as 'womaniser'
Russian President Putin will not attend the G20 summit, sending Foreign Minister Lavrov instead. During a discussion in India, a lighthearted exchange about Putin's absence and Lavrov's role occurred. The ICC's warrant for Putin's arrest and his busy schedule are cited as reasons for his absence.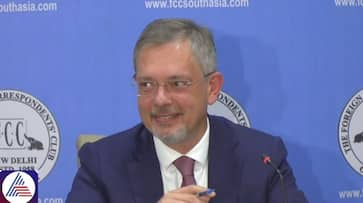 Russian President Vladimir Putin has decided to skip the upcoming G20 summit scheduled for September 9-10, 2023, and instead, he will be sending his Foreign Minister, Sergei Lavrov, as the representative.
During the discussion about relations between India - Russia, organized by the Foreign Correspondents Club of South Asia (FCCSouthAsia). A journalist from Doordarshan asked the Russian Ambassador to India, Denis Alipov, about Putin's absence from the summit.

G20 Summit: Russia to send Foreign envoy Sergei Lavrov as Vladimir Putin's replacement
In a lighthearted attempt to inject humour into the discussion, the DD journalist commented, "We are great fans of the Soviet Union. Putin is very popular among Russian women. If he had come to India, it would have been nice for us and we would have really enjoyed it. But now, you're having the foreign minister coming, you think he'll be putting in thoughts of Putin in the G20 summit regarding USSR - India relations?"
Chinese President Xi Jinping likely to skip G20 Summit in India: Report
Ambassador Denis Alipov responded with a playful remark, saying, "Thank you for your remarks on Russian men. Lavrov is married, by the way. But he is coming. He is a womanizer, by the way." This humorous exchange briefly lightened the atmosphere during the serious discussion about India-USSR relations.
The G20 summit, an annual gathering of leaders from the world's major economies, will continue as planned, with Foreign Minister Sergei Lavrov representing Russia. The reason behind President Putin's decision to abstain from the summit is due to his busy schedule. Moreover, the International Criminal Court issued an arrest warrant for Putin over the Ukraine War.
Last Updated Sep 2, 2023, 11:43 AM IST