Israel accuses Hamas of using Gaza hospital as military headquarters; posts explainer video (WATCH)
The article discusses Israel's allegations that Hamas is using a Gaza hospital for military purposes, which Hamas and a UN agency have vehemently denied, amid the ongoing conflict.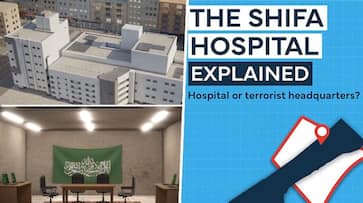 Israel has made allegations that Hamas is utilising Gaza Strip's largest hospital as a base of operations to shield against Israeli strikes, possibly putting civilians at risk. The Israeli army claims that Hamas is misusing hospitals in Gaza for military purposes amid the ongoing conflict, while Hamas and the UN agency working in Gaza have denied these allegations.
Also read: India among 45 nations that abstained from voting at UNGA on Jordan's resolution on Gaza ceasefire
The Israeli Prime Minister, Benjamin Netanyahu, asserted on social media that "Hamas-ISIS is sick" and accused them of using hospitals as terror headquarters. "Hamas-ISIS is sick. They turn hospitals into headquarters for their terror. We just released intelligence proving it," Israeli Prime Minister Benjamin Netanyahu said in a post on X, formerly Twitter.
Israeli military spokesman Daniel Hagari further elaborated on these claims, stating that Hamas was operating within Al-Shifa hospital, the largest hospital in Gaza. He alleged that Hamas was using hospitals for command and control centers, hideouts, and even for storing fuel to support their operations. Hagari also mentioned the presence of tunnels' entrances inside hospitals, labeling this as a cynical use of medical facilities.
Also read: Gaza phone, Internet lines go dead as IDF expands ground operations
"Terrorists move freely" in Shifa and other hospitals, he added. He further stated, "There is fuel in hospitals and Hamas is using it for its terror infrastructure."
Hamas swiftly denied these allegations, with a senior member of the Hamas political bureau, Izzat al-Rishq, calling them unfounded. "There's no basis in truth in what the spokesman of the enemy army stated," Rishq said, accusing Israel of making up the allegations to "pave the way for a new massacre to be committed against our people".
The United Nations agency for Palestinian refugees (UNRWA) also refuted the accusations, with Commissioner General Philippe Lazzarini stating that they have solid monitoring mechanisms in place to ensure aid is not diverted for unauthorized purposes. "We have solid monitoring mechanisms... UNRWA does not and will not divert any humanitarian aid into the wrong hands," Lazzarini said.
Also read: Israel deploys 'Sponge Bombs' as secret weapon to thwart Hamas tunnels
These allegations come in the context of a prolonged conflict between Israel and Hamas, which has continued for three weeks. The conflict was sparked by gruesome attacks by Hamas on southern Israel on October 7, resulting in significant casualties on both sides.
Last Updated Oct 28, 2023, 9:09 AM IST