From China to Germany, extreme weather is ravaging the world
The extreme weather ranges from wildfires in the United States to flooding in Germany and Belgium.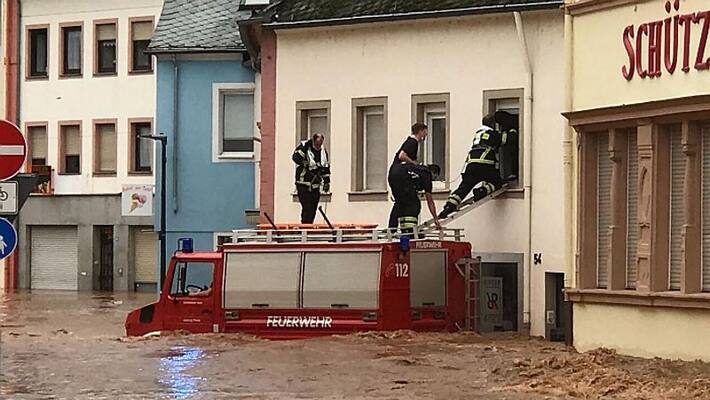 The Internet is flooded with apocalyptic images from across the world which has raised concerns about the impact of climate change. The extreme weather ranges from wildfires in the United States to flooding in Germany and Belgium.
While no single flooding event can be directly attributed to climate change, environmentalists and scientists have earlier warned that global warming and heating would cause such drastic weather events. 
While the floods across western Germany and Belgium have killed hundreds, in the same period, the western US and Canada have been hit by extreme heatwaves, which has led to the death of thousands.
Russia
Russia is facing the worst fires in 150 years as the smoke from the wildfires forced the airport of the Siberian city of Yakutsk to shut and choked 50 other nearby towns and settlements. The heavy smoke has been plagued by widespread forest fires, which is allegedly blamed on unusual high temperatures and neglect of safety rules. 
Local emergency officials have reported that 187 fires have raged in the region, and the total area engulfed by blazes has grown by 100,000 hectares (about 247,000 acres) in the past 24 hours. 
---

China
Due to heavy rains, China's two dams in Inner Mongolia have collapsed. The dams with a combined water capacity of 1.6 trillion cubic feet collapsed and people were immediately evacuated. However, no casualties were reported. The dams were destroyed after Hulunbuir city received 87 mm of rainfall over the weekend. Level - III emergency has been triggered for flood control and rescue teams have been sent. 
In Sichuan, thousands of people were evacuated amid heavy rains and floods as water levels rose in 14 rivers. At least 4,600 people were evacuated as train services were cancelled and power lines were damaged.
---

Europe
Catastrophic flooding in western Europe has killed more than 120 people, with hundreds more missing, as large-scale rescue efforts continue amid rising water, landslides and power outages. 
Devastation images and videos of Germany and Belgium showed entire villages underwater, with cars wedged between collapsed buildings and debris. The Netherlands and Luxembourg have also been affected by extreme rainfall.
In Germany, at least 105 people have been killed across two western states. They have deployed 850 troops to assist with disaster relief.
At least 165,000 people are currently without power in Rhineland-Palatinate and neighbouring North Rhine-Westphalia.
The states of North Rhine-Westphalia, Rhineland-Palatinate and Saarland have been the worst affected by the record rainfall, which authorities have called the heaviest in a century. 
---

United States
Residents in Oregon have been warned that they should be prepared to evacuate as the Bootleg Fire scorches more than 340,000 acres. There are currently 80 large wildfires raging in 13 states across the US, burning more than 1.1 million acres.
Montana has reported the largest wildfire with 18, Idaho with 17.
Nearly 20,000 wildland firefighters and personnel are assigned to the 80 large wildfires currently burning across the United States.
After Oregon, the state's with the most acres burned are California, Idaho and then Alaska.
The Bootleg Fire, burning since July 6, has already burned an area roughly the size of Los Angeles and has created conditions so extreme that firefighters have had to seek safety for the ninth day in a row. 
According to the National Interagency Fire Centre, there are currently nine large fires in California, which have burned over 175,000 acres of land. 
---

New Zealand
The country's west coast has been hit by severe flooding, the local state has declared an emergency and thousands evacuated from their homes. This emergency arrived due to the aftermath of heavy rains and storms over the past two months that prompted states of emergency in Canterbury and Wellington. Around 300 mm of rain over a single weekend --- around a month's average rainfall concentrated in two days. The rainfall caused slips, rivers to break their banks and evacuation. 
Last Updated Jul 21, 2021, 8:48 AM IST