Coronavirus: 99-year-old World War II veteran who served in India walks to raise over 13 million pounds
99-year-old World War II veteran Captain Tom Moore has raised over 13 million pounds for NHS health workers who are fighting against the novel coronavirus (COVID-19) in the United Kingdom (UK)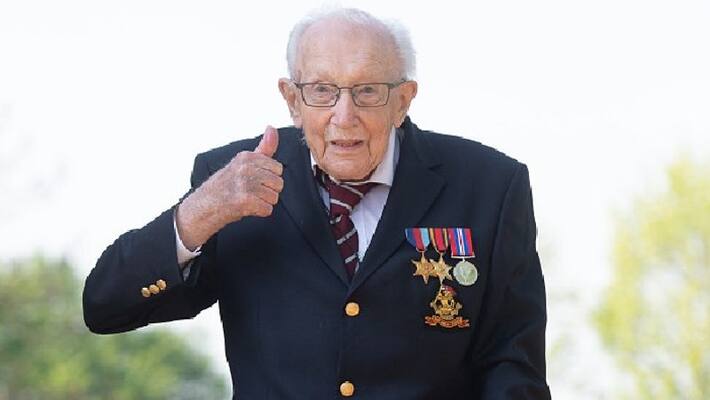 London:
A 99-year-old World War II veteran, who served in India, has walked to raise money for the National Health Service (NHS) workers who are battling the novel coronavirus (COVID-19) in the United Kingdom (UK). So far, he has succeeded in raising more than pounds (£) 13 million (Rs 124 crore-plus).
Also read: World War II veteran recovers from coronavirus
Captain Tom Moore first announced on his Twitter account that he is walking to raise money for NHS, through online. He wrote on April 11, "I'm Captain Tom Moore, war veteran, 99 years of age (soon to be 100) and I'm walking for the NHS to raise money for our heroes." He had added the link of the website where people can donate.  
He received massive response for his initial target of pounds 1,000. That was reached in just 24 hours and donations continue to pour in. So far, it has reached pounds 13,001,328.65 (as on April 16, 4.30 pm IST).
Also read: 101-year-old British man wins battle against coronavirus
Captain Moore, with a walking frame with wheels, aimed at walking 100 lengths of the back garden (which is 25m in length) under lockdown in Buckinghamshire, England, before he is 100 years old at the end of the month, on April 30. He has completed 100 lengths by walking 10 each everyday.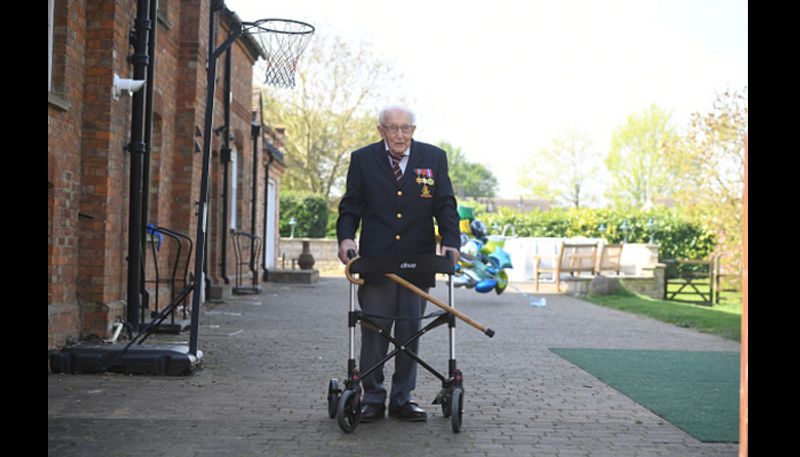 "The thing is, remember tomorrow is a good day. And tomorrow you will maybe find everything will be better than today even if today is alright. And my today is alright. And my tomorrow will certainly be alright. And that's the way I think I have always looked at it. Tomorrow will be a good day," Captain Moore said in a video.
According to the online website where you can make donations, "Tom was born and brought up in Keighley, Yorkshire. He went to Keighley Grammar School and later completed an apprenticeship as a Civil Engineer. Tom went onto being enlisted in 8 DWR (145 RAC) at the beginning of the war, and in 1940 was selected for Officer training. He was later posted to 9DWR in India, and served and fought on the Arakan, went to Regiment to Sumatra after the Japanese surrender and returned to be Instructor at Armoured Fighting Vehicle School in Bovington."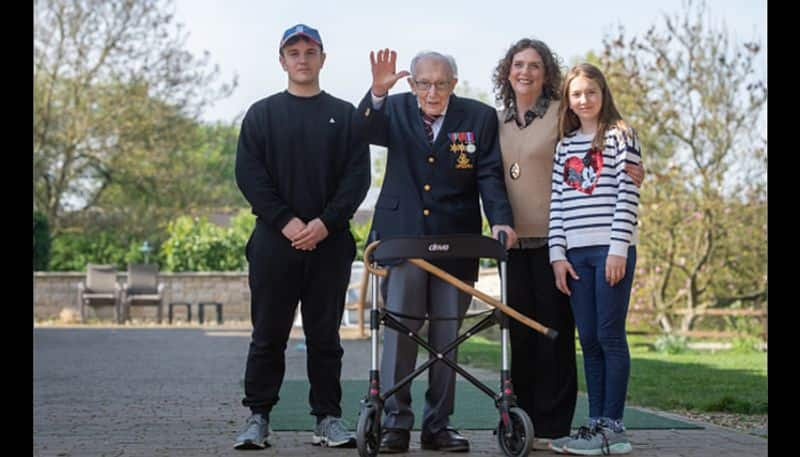 Many have been inspired by Captain Moore's gesture towards the health workers and even British health secretary Matt Hancock paid rich tributes to him. "I want to pay a special tribute today to Captain Tom Moore. At the age of 99, he's raised over £7 million so far for NHS charities by completing 100 laps of his garden. Capt. Tom, you're an inspiration to us all, and we thank you," Hancock said.
In the UK, there have been more than 98,000 coronavirus cases and over 12,000 have lost their lives.
Last Updated Apr 16, 2020, 4:33 PM IST