101-year-old British man recovers from coronavirus; flashes double thumbs up
After an Italian man, aged 101 years, recovered from the novel coronavirus (COVID-19), here is another 101-year-old man, from England, who has beaten the virus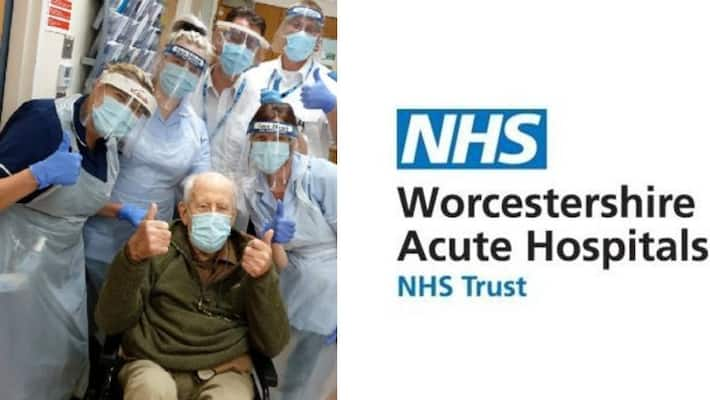 London:
Amid the rising cases of coronavirus (COVID-19) across the world, here is a piece of good news. A 101-year-old man in England has recovered from the virus and has returned home from the hospital after two weeks.
Worcestershire's Keith Watson, 101, has beaten the coronavirus. The hospital which treated him shared the good news on its Twitter and Facebook pages. Watson had gone to hospital for a surgery after a fall. He had high temperature and later tested positive for coronavirus.
Also read: A $5,000 fine on the spot if you cough, spit
Worcestershire Acute Hospitals NHS Trust wrote along with a picture of Watson, on Facebook on Thursday (April 9), "This is Keith, he's 101 years old. He went home today after beating Coronavirus! Well done to everyone on Ward 12 at the Alexandra Hospital for looking after Keith so well for the past two weeks! (sic)."
Also read: Kolkata-born Miss England serves as doctor in UK
This Facebook post has over 12,000 likes, more than 1,000 comments and 8,000-plus shares.
Watson's daughter-in-law Jo Watson told
BBC
, "He's doing OK, he was discharged yesterday (April 8). We didn't know anything about this Facebook page until a member of the family had it pop up and it's gone a bit mad.
"He was in hospital having taken a tumble at his care home and needed surgery and that was a big enough ordeal at 101, but he got through that. He was showing signs of a temperature and so the hospital took all the precautions, tested him and he came back positive."
Last month, a 101-year-old man in Italy had recovered from the virus.
Last Updated Apr 10, 2020, 5:35 PM IST