Watch: 99-year-old World War II veteran wins battle against coronavirus in England; gets guard of honour
After the news of 101-year-old recovering from the coronavirus (COVID-19), here is a 99-year-old World War II veteran who has won his battle against the virus in England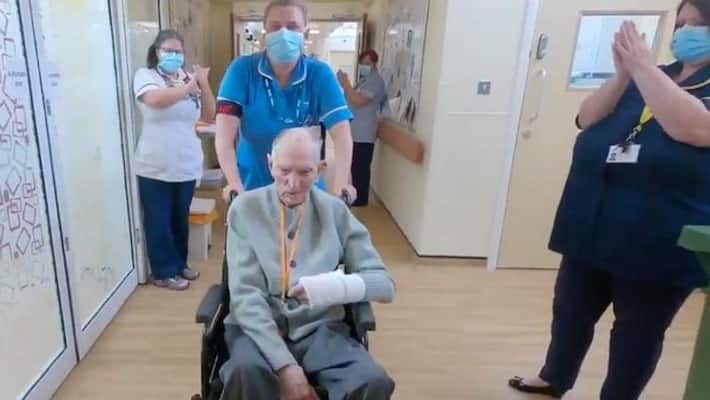 London:
A 99-year-old World War II veteran has recovered from the novel coronavirus (COVID-19) and is set to return home from hospital in England.
Albert Chambers, who will celebrate his 100th birthday in July, was admitted to Tickhill Road Hospital in Doncaster, South Yorkshire, three weeks ago. He was hospitalised after injuring his wrist after a fall. In the hospital he showed symptoms and tested positive for coronavirus.
Also read: 101-year-old recovers from coronavirus
On Friday (April 10), Chambers recovered from the virus, NHS North East and Yorkshire health trust said and shared a video. In the video, nurses are seen giving a guard of honour to the World War veteran who was injured during the war, and spent three years as prisoner of war in Germany.
Also read: If you spit, you will be fined $5,000
"Some lovely news coming from Doncaster this evening. Albert Chambers, who will be 100 in July, and a WW2 veteran, has fought off Coronavirus thanks to the help of the team at Tickhill Road Hospital, run by @rdash_nhs . Here he is getting a guard of honour from staff," tweeted NHS North East and Yorkshire health trust.
In the video, Chambers thanked the nurses. He said, "Thank you very much. I appreciate every bit you've done for me. It couldn't have been better."  
His grandson Stephen Gater was quoted as saying in the media, "My grandad is amazing. He's pretty incredible. He's not only survived the war and being in prison camp, now he's won the battle with coronavirus."
On Thursday (April 9), a 101-year-old man had recovered from the coronavirus in Britain. He was discharged from hospital in Worcestershire.
Last Updated Apr 11, 2020, 12:06 PM IST