Woman records bear stealing an Amazon package from the front of her house
A black bear was captured on a CCTV camera, taking an Amazon package from the entrance of a Connecticut home.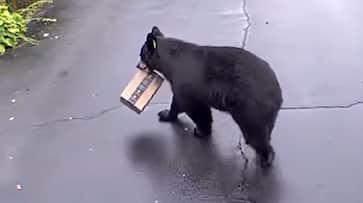 A US woman was left questioning who had stolen a package from her home entrance. However, she was shocked to find the offender, which was a wild bear.
Yes, Kristin Levine spotted the culprit while going through her CCTV footage. She found that the Amazon box left on the front doorstep was picked up by a black bear that was seen wandering near her home. In the video, one can see a bear taking a package in its mouth. Kristin Levine shared the video on Facebook and mentioned that the bear took her box. And asked whether Amazon will give replacements for bear thieves? She also tagged Amazon and some media agencies.
The package had many rolls of toilet paper. And Kristin Levine says that the bear left the parcel in a neighbour's yard. After being shared online, the video accumulated over 3.4k views. Many social media users have now responded to the video. Few even compared the clip of bear to TV commercials. Watch the video.
Last Updated Aug 25, 2021, 11:56 AM IST